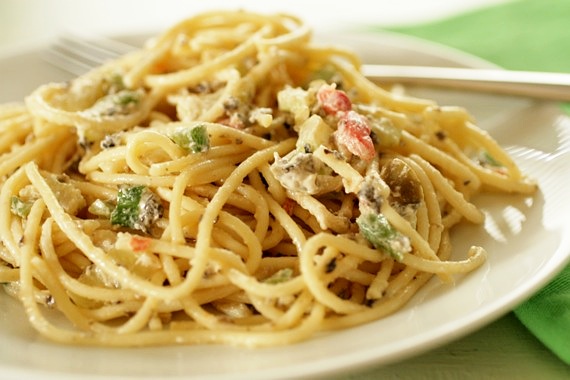 Hi there! Sorry it's been so long, but thanks for sticking by me and being so patient! Today is the first day I've felt like even turning on my laptop in weeks! Hopefully all this yucky sickness will pass soon and I can get back to doing what I love: EATING! For those of you who are interested, I'm at 8 1/2 weeks and the baby is the size of a raspberry! How cute!
Anyway, I've wanted to post this pasta salad for weeks now because it's SO good! It's my mom's recipe and she usually makes it in the summer. We had this on our Memorial Day menu along with barbecued chicken, grilled pineapple, baked beans and fresh strawberry pie (I could really go for some of that pie right about now!). Despite having mayo, it's still really light and definitely not gloppy. The olives are my favorite part, but I also love the crunch of the celery and green peppers- really, every single aspect of it is delicious and you just can't go wrong with this salad! Try it at your next cookout! You'll love it!
My Mom's Pasta Salad
1 16-ounce package spaghetti, cooked and drained
1 1/2 teaspoons salt
1/2 teaspoon pepper
1/4 teaspoon garlic powder
4 tablespoons olive oil
4 ounces chopped pimento
2 cups celery, chopped
1/2 cup bell pepper, chopped
3 green onions, chopped
1/2 cup green olives, chopped
1/2 cup black olives, chopped
1 1/2 cups mayonnaise
2 tablespoon lemon juice
Toss the cooked spaghetti with the oil and mayonnaise then stir in all other ingredients. Chill for at least 2 hours before serving.
Recipe source: my mom