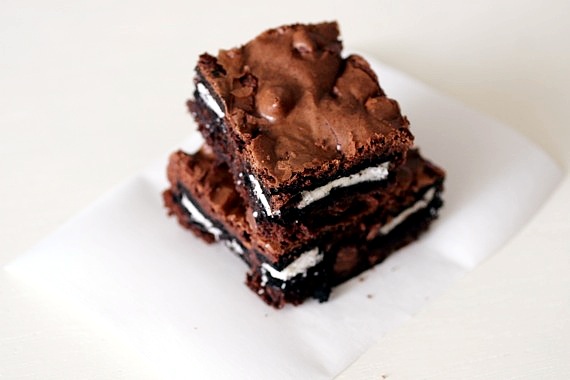 Are you sick of all my Oreo recipes yet? No? Good, me either!! 😉 I'm telling you, there isn't a dessert out there that couldn't be improved with Oreos! Now, when it comes to brownies, I'd like to think of myself as a purist. I don't want nuts or any other add-ins (usually); I just prefer a warm brownie with a cold glass of milk (soy, of course…bleh). But I had an unopened package of Oreos staring at me and a serious craving for brownies, so I decided to just throw some in! These were GOOD! The Oreos get a little soft during the baking process so they're nice and chewy inside the gooey brownies. I used my favorite brownie recipe and couldn't have been more pleased with how they turned out! A new favorite!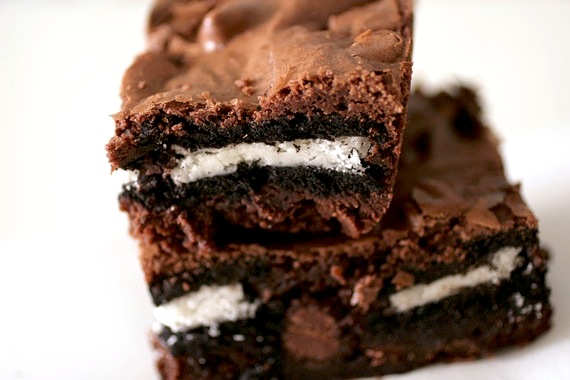 Oreo-Stuffed Brownies
1 cup (2 sticks) unsalted butter
2 1/4 cups sugar
4 large eggs
1 1/4 cups cocoa powder
1 teaspoon salt
1 teaspoon baking powder
1 teaspoon espresso powder, optional
1 tablespoon vanilla extract
1 1/2 cups flour
1 cup chocolate chips
1 package Oreos (Double Stuff is best!)
Preheat the oven to 350 degrees. Lightly grease a 9×13 pan.
In a medium-sized microwave-safe bowl, or in a saucepan set over low heat, melt the butter, then add the sugar and stir to combine. Return the mixture to the heat (or microwave) briefly, just until it's hot, but not bubbling; it'll become shiny looking as you stir it. Heating the mixture a second time will dissolve more of the sugar, which will yield a shiny top crust on your brownies.
While the sugar heats a second time, beat the eggs, cocoa, salt, baking powder, espresso powder, and vanilla until smooth. Add the hot butter/sugar mixture, stirring until smooth.
Add the flour and chips, again stirring until smooth.
Spoon half of the batter into the greased pan. Place the Oreos in even rows across the batter (as many as you can fit). Pour the remaining batter over the Oreos and gently spread to the edges of the pan. Bake for about 35-40 minutes, until a cake tester inserted into the center comes out clean. Cool the brownies for at least 10 minutes before serving.
Recipe source: brownie recipe from King Arthur Flour; the "Oreo-Stuffed" part is my idea (though I'm sure it's not exactly a new concept)