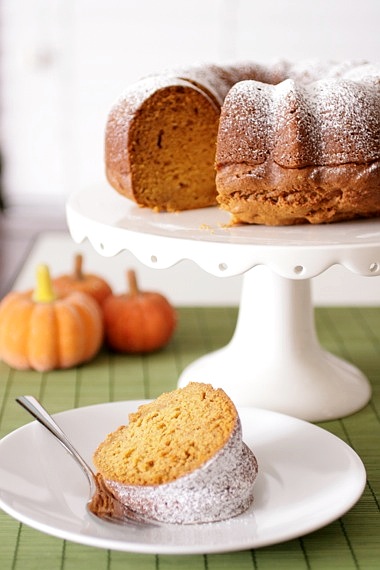 I waited as long as I could. I really did. But when we got that blast of glorious fall weather this weekend, I decided I couldn't wait any longer; it was time to bring in fall! I've gotten out all my fall decorations, made soup, homemade applesauce (recipe to come!) and baked this pumpkin pound cake. And lemme tell ya- I feel GREAT! Nothing like a cool breeze and the smell of pumpkin and cinnamon to lift a girl's spirits! Sure, it's supposed to get back into the 90's next week but for now, it's fall outside and I'm enjoying every second of it. My mom is responsible for me baking this cake- she thought a pumpkin pound cake sounded great and charged me with finding a great recipe to try. I did a little searching and came up with exactly what I was looking for! The cake is delicious- not too sweet, super moist, dense and full of warm spices. I loved it with my morning coffee- the perfect combination!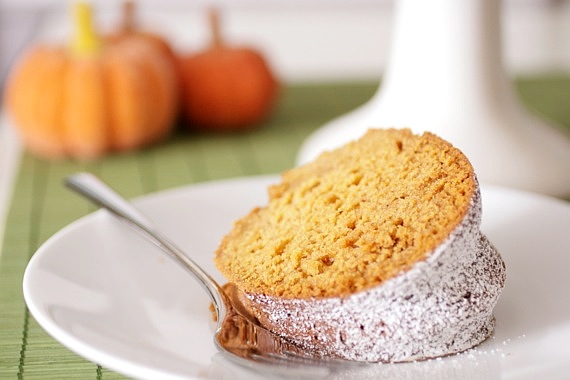 Pumpkin Pound Cake
1 cup granulated sugar
1 cup brown sugar
1 cup canola oil
3 eggs
3 cups all-purpose flour
2 teaspoons baking soda
1 teaspoon ground cinnamon
1 teaspoon ground nutmeg
1/2 teaspoon salt
1/4 teaspoon ground cloves
1 package instant vanilla pudding mix
1 can (15 ounces) pumpkin puree
Confectioners' sugar, for dusting
In a large bowl, combine sugar and oil until blended. Add eggs, one at a time, beating well after each addition. In a separate bowl, combine flour, baking soda, cinnamon, nutmeg, salt, cloves and pudding mix; add to egg mixture alternately with pumpkin, beating well after each addition.
Transfer to a greased bundt pan. Bake at 350 degrees for 60-65 minutes or until toothpick inserted near the center comes out clean. Cool for 10 minutes before inverting onto a wire rack. Remove from pan and cool completely. Dust with confectioners' sugar. Serves 12-16.
Recipe source: Adapted from Taste of Home