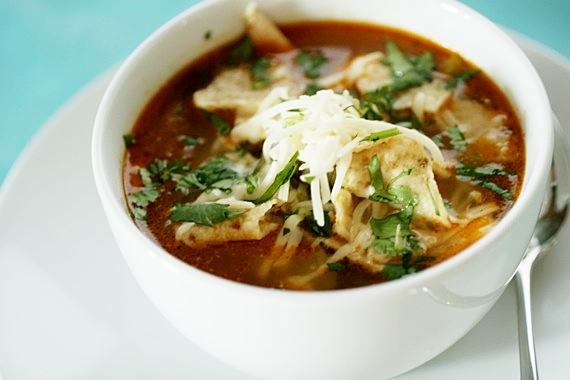 As a new bride (5 years ago this month- yay!), I bought a soup cookbook from Williams-Sonoma so I could learn to make easy, delicious soups for my new husband. I bookmarked a ton of recipes from the book but this one always stood out to me; it claimed to be a 15-minute soup. Intriguing! I tried it and found that not only was it a quick and easy recipe, it was super scrumptious! Joel fell in love with it and I've been making it religiously for 5 years now. In fact, this was the very first recipe I ever blogged waaaay back in April 2008 (isn't it cute? The pictures are just terrible!)! I thought I'd go ahead and re-blog it since it never really got the attention it so deserves. Joel never gets tired of it and as soon as soup season rolls around every year, Chicken Tortilla Soup is his first request! I'm happy to make it for him as often as he wants because I happen to love it too and like I said before- it's EASY. This isn't your typical high-fat, loaded with tons of ingredients chicken tortilla soup. It's base is a flavor-packed broth seasoned with chili powder, cumin and lots of lime juice (my favorite part!), and the zucchini is an authentic addition suggested by my friend Amanda's mother. It's simple, full of tons of great flavor and extremely satisfying!
Chicken Tortilla Soup
6 cups chicken stock
2 cups cooked, shredded chicken (I like to roast or poach bone-in chicken breasts until tender, then shred the meat. Additionally, you could also use a store-bought rotisserie chicken)
half an onion, chopped
1 clove garlic, minced
2 small-medium zucchinis, chopped
1 teaspoon chili powder
1 teaspoon cumin
1/4 teaspoon chipotle chile powder
juice from 2 large limes
salt and pepper to taste
Coat a large saucepan with olive oil over medium-high heat, add onion and zucchini and sautee until tender, about 3 minutes. Add the garlic, chili powder, cumin, chipotle chile powder, salt and pepper and stir until fragrant. Pour in stock and bring to a boil. Add the shredded chicken, reduce the heat to medium and simmer until the chicken is heated through. Add the lime juice and taste for seasoning. Ladle into bowls and top with and desired garnishes. Serves 4.
Garnish ideas:
crushed tortilla chips
shredded Monterey Jack cheese
sliced avocado
fresh cilantro
Recipe source: adapted from Williams-Sonoma's Soup Made Fast