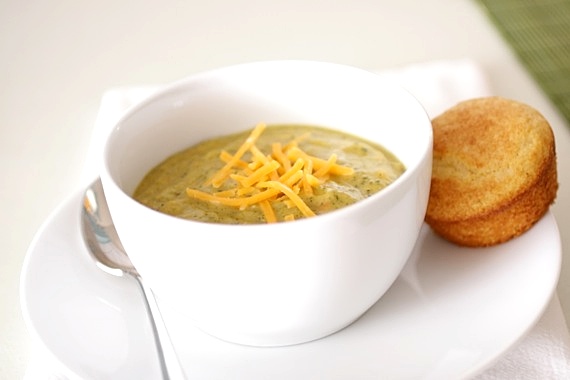 Guess what time it is??? It's SOUP season!! YAY! This morning we woke up to a crisp, chilly morning, and for the first time all season, I don't need my air conditioner running! That's definitely something to celebrate (especially considering it was 90 degrees yesterday! Ugh!); so I'll start today by posting my first soup recipe of the season (yippee!), then busting out my long sleeved shirts and sweaters, and baking some delicious pumpkin bread. Sounds like a heavenly day to me!
Now about this soup. I'm a HUGE fan of broccoli cheese soup. Love it. However, for some reason, I've never made my own. A few nights ago, I decided I had waited long enough and set out to make a big pot. This soup is not only cheesy, but rich, creamy and full of hearty broccoli flavor. We loved it! I think you will too! Now, some of you will remember that I am, indeed, lactose-intolerant, so I paid dearly for eating two bowls of this delicious soup (even with my magic enzyme pills), but honestly, it was worth it. However, I won't be making that mistake again in the near future… 😉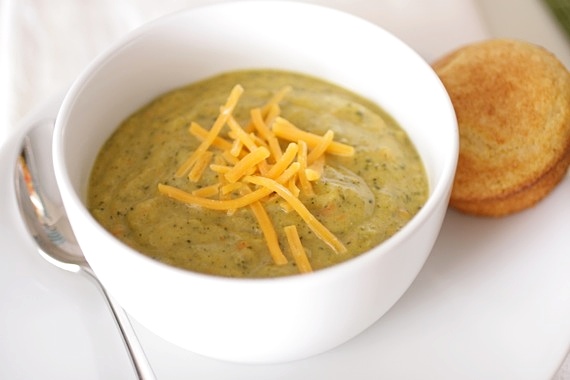 Broccoli Cheese Soup
2 tablespoons butter
2 pounds broccoli, cut into small pieces; stalks peeled and cut into small chunks
3 carrots, shredded
1 medium onion, chopped
1 teaspoon dry mustard
salt and pepper
1 cup water
1/4 teaspoon baking soda
2 cups chicken broth
3/4 cup Velveeta cheese, cut into cubes
3/4 cup shredded cheddar cheese
1 cup milk
In a large pot or dutch oven, heat butter over medium high heat. Add broccoli, onion, carrots, mustard and salt and pepper. Stir frequently and cook until fragrant, about 6 minutes. Add water, chicken broth and baking soda and bring to a simmer. Cook until broccoli is very soft, about 20 minutes.
Add milk and cheeses and stir until all the cheese is melted. Using an immersion blender (or transfer the soup to a regular blender and blend in two batches), blend the soup until smooth. Check for seasoning and add salt and pepper as needed. Serves 6-8.
Recipe source: heavily adapted from Cook's Illustrated, March/April 2011