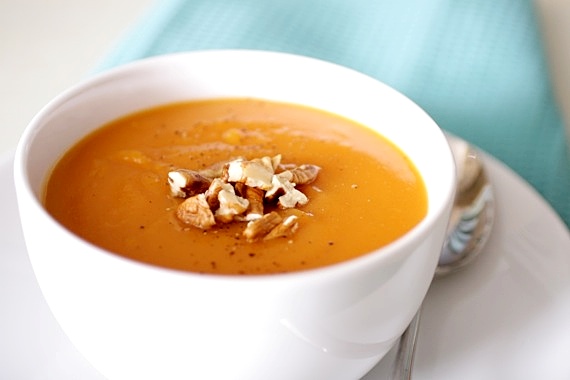 Happy November!!! I hope everybody had a fun, safe Halloween and lots of yummy snacks and candy were eaten! I'd be lying if I said I didn't have a leftover bag of Reese's minis sitting on my nightstand just waiting for me. 😉
But now the fun of Halloween is over and it's time to start thinking about Thanksgiving! Yippee!  In fact, it was a Thanksgiving side dish that inspired me for this soup- mashed sweet potatoes with brown sugar, butter, a splash of orange juice and a sprinkling of pecans. I had four very large sweet potatoes I wanted to use and the idea of soup just popped into my head. I made it just like I make my mashed sweet potatoes at Thanksgiving, except I pureed the whole thing until I had a silky smooth, creamy soup, just perfect for a chilly fall evening. This came together so quickly and easily, and it made a pretty big pot of soup, so we had delicious leftovers to look forward to! I'd even recommend this for a Thanksgiving soup course; it really is a breeze to throw together and it's easily customizable – you can add any number of seasonings or toppings to suit your tastes!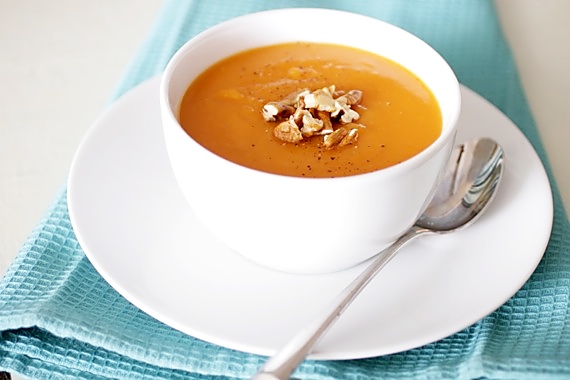 Sweet Potato Soup
4 large sweet potatoes, peeled and roughly chopped into chunks
2 cups chicken broth
2 cups water
salt
pepper
2 tablespoons butter
1/3-1/2 cup brown sugar (depending on how sweet you want it)
splash orange juice
1/8 teaspoon cayenne pepper
In a large pot, bring the sweet potatoes, chicken broth and water to a boil; cook for approximately 20-30 minutes, until the sweet potatoes are very soft. Using an immersion blender (or a regular blender in 2 or 3 batches), puree the soup until very smooth and no lumps remain. Add the salt, pepper, butter, brown sugar, orange juice and cayenne pepper. Check for seasoning. Garnish with chopped toasted pecans, if desired. Serves 4-6.
Recipe source: Sing For Your Supper original