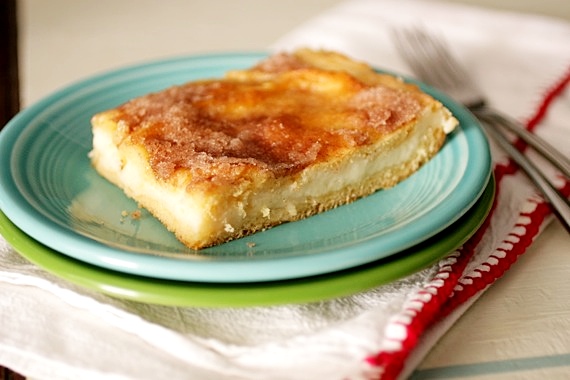 Let me start off by stating a few things: 1.) Happy New Year! 2.) Those of you who have resolved to eat healthier, lose weight, etc, just click away now, because this recipe is neither healthy nor diet-friendly. In fact, it's pretty much just butter and cream cheese. And sugar. 🙂 3.) There's really nothing about this recipe that makes it a "cheesecake" in any way, except maybe the abundance of cream cheese (in fact, it's more along the lines of a cheese danish), but that's what the recipe is called, so for propriety's sake, I'll continue calling it "sopapilla cheesecake".
A few weeks ago, at our friends' Christmas party, the hostess pulled something freshly baked out of the oven. The sweet, cinnamony smell immediately caught my attention and I was first in line to try a plateful. At first glance, it looked like some sort of cobbler covered in cinnamon-sugar, but with one bite I knew what I was eating- the sopapilla cheesecake I had seen plastered all over pinterest. Crescent rolls, cream cheese, butter, sugar. That's it. And I have to admit, it was stinking delicious. My big pregnant self ate two helpings. Then I immediately came home and made one of my own for my parents to try. Embarrassingly easy, shamefully fattening and ridiculously yummy. A pregnant woman's dream dessert.
Sopapilla Cheesecake
2 cans Pillsbury crescent rolls
2-8oz blocks cream cheese, at room temperature
1 1/2 cups sugar
1 teaspoon vanilla extract
1 teaspoon cinnamon
6 tablespoons butter, melted
Spray a 9 x 13 pan with cooking spray. Unroll and press 1 can crescent rolls into the bottom of the baking dish press the seams together.
In a separate bowl blend the cream cheese, 1 cup sugar and vanilla; spread evenly over top of dough. Unroll the second can of crescent rolls and place on top of the cream cheese mixture pressing seams together again. Pour the melted butter over top layer of crescents.
Mix the reaming 1/2 cup of sugar and cinnamon together. Sprinkle cinnamon-sugar mixture generously over the top. Bake at 350 degrees for 25-30 minutes until bubbly and browned. Allow to cool before serving (personally, I like it better warm, so I let mine cool for only 15 or 20 minutes before serving). Serves 8.
Recipe source: barely adapted from Real Mom Kitchen, via Mommy's Kitchen