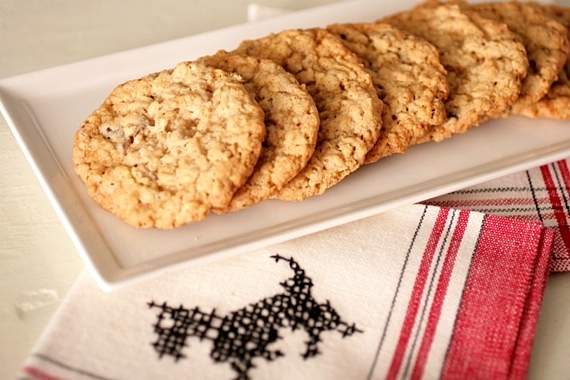 To me, oatmeal raisin cookies are the ultimate comfort cookie- now, don't get me wrong, chocolate chip cookies are about as close to perfection as you can get, but when I need a smile I crave a good, chewy oatmeal cookie. Oatmeal cookies are grandmotherly to me. Just something about them makes me feel all warm and fuzzy, as if I were sitting at Nana's kitchen table. Especially these. They're super chewy, soft and have that perfect sweetness that makes them hands down, my all-time favorite oatmeal cookie. I made a big batch last week when it was a particularly cold, drizzly night. They absolutely hit the spot (…and I may have eaten 7 or 8). These are a spin-off of my award winning Toasted Oatmeal Cookies with Golden Raisins, Pecans and Coconut – only a much, much simpler, bare essentials version. Sometimes I don't want all that extra stuff- just a simple oatmeal raisin cookie. I finely chop the raisins since I'm not a big raisin fan, but I like the chewiness and sweetness they add to the cookie- I find this makes the absolute perfect oatmeal raisin cookie! Give them a try this week- you'll love them!
*P.S. Don't you just love my "Izzy" napkins? My mom gave them to me for Christmas!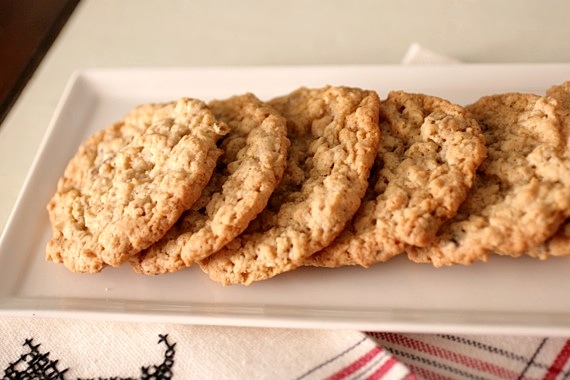 Oatmeal Raisin Cookies
1 1/2 cups old-fashioned oats
1 cup all-purpose flour
1/2 teaspoon baking soda
1/2 teaspoon baking powder
rounded 1/2 teaspoon salt
1/2 cup (one stick) plus 2 tablespoons unsalted butter, softened
1/2 cup packed brown sugar
1/2 cup granulated sugar
1 large egg
1/2 tablespoon half and half
1 teaspoon vanilla extract
1/2 teaspoon cinnamon
1 cup raisins, finely chopped (you can leave them whole if you want; I just prefer the texture with them chopped)
Preheat oven to 350 degrees. Combine oats, flour, baking soda, baking powder, salt and cinnamon in a bowl. Set aside.
In a stand mixer fitted with a paddle attachment (or using a hand mixer), cream both sugars and butter until light, fluffy and smooth. Add egg, half and half and vanilla and blend until smooth. Gradually stir in the oat mixture, then the raisins. Drop dough onto a cookie sheet lined with parchment paper in rounded spoonfuls (or use a cookie scoop) about 2 inches apart. Bake for about 10-12 minutes or until edges of cookies are golden brown. Transfer to a wire rack for cooling. Makes approximately 2 dozen.
*Cookies will spread quite a bit, so be sure to space them at least 2 inches apart on the cookie sheet.
Recipe Source: Sing For Your Supper original