Ok, I know I've gone a little overboard with the baby updates lately, but this is the last one, I swear! I really wanted to get the full birth story written down so we'd be sure to always remember every detail. So many of you have emailed and commented wanting to know more about our baby girl's birth, so I thought I'd share the experience with you. And to make it all worth it, here's another picture of our little sweetie. 🙂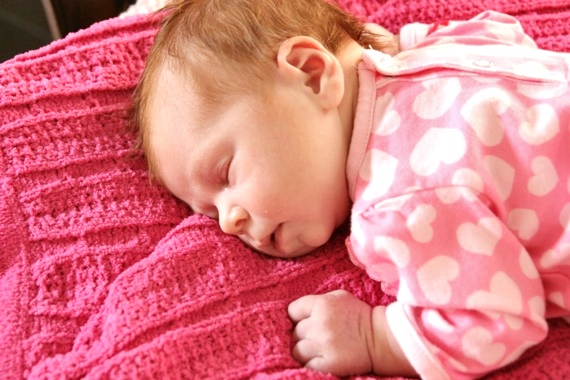 Ok, here we go:
I haven't had a hot cup of coffee in days. No matter how many times I re-heat it, by the time I get around to actually drinking it, it's cold again.
I haven't shaved my legs in 2 weeks. Gross.
Most days, I don't get to brush my teeth until after 1 or 2 o'clock.
Lunch? More like, late afternoon snack.
Just call me Bessy the milk cow.
I'm not even going to talk about the sleep thing.
Wow. When you sit down and think about it, you can really find a lot to gripe about. And I could probably come up with so much more.  But as I sit here watching my little girl sleep, suddenly every single complaint fades away. Becomes tiny. Unimportant. When I cradle her in my arms and softly sing her favorite songs, my heart is so full I literally get tears in my eyes.
Sure, childbirth was hard. Really hard. But so, SO worth it. In fact, I'm writing it down now so I won't forget a single second. I want to remember every moment.
I went in to be induced at 7am. My room was big and beautiful with a great view of one of my favorite Dallas areas. Joel helped me into my lovely hospital gown, then the nurse got me all hooked up to everything. Shortly after, the anesthesiologist came in to give me my epidural (that's right. Epidural. God bless it). My doctor came in and broke my water (which never would have broken on its own, she says. I guess I was never destined to go into labor on my own), which hurt like the devil. Joel nearly fainted. I like that part of the story. 🙂 I was given the medicine to get things started and all that was left at that point was to wait.
My mom and sister came in the room periodically to check on me and keep my spirits up while Joel texted updates to the rest of the family. More waiting.
Finally, it was time to push. This was so scary to me because I knew Cassidy was a big baby- estimated at over 9 pounds. Yikes. The nurse showed me how to push and before I knew it, it was go-time. This had just become very real.
2 ½ hours. Might as well have been 8…or 20. Pushing was hard. Very hard. I held onto Joel for dear life and he helped support my legs and neck while I pushed. There was no screaming, ridiculous breathing exercises or yelling of obscenities at Joel. It was nothing like I had imagined- very calm and quiet, with the chipper encouragements of my nurse. "I can see her head! You're making great progress!"  But I knew better. I just knew. Each push left me exhausted, red-faced and more and more discouraged. Those 2 ½ hours of pushing came to an abrupt end when it was clear my baby girl was just too big.  I had to have a c-section. Ok, fine. No big deal, I said. But I was devastated and so terrified. This wasn't part of my plan. I had never even considered this option. The horrible recovery…the scar…the pain. Yeah- I was terrified.
They wheeled me into the operating room and got me situated. The doctors were very upbeat and chatted with me about opera while they got things ready. Joel came in a few minutes later in his scrubs. This was happening.  My doctor held my hand and assured me everything was going to be just fine. Then she began. Joel stroked my hair and squeezed my hand. I felt lots of pressure- not exactly pain, just pressure and I just laid there in fear and shock at what was happening. Then the world stopped when we both heard the most beautiful sound in the world. Our baby crying. She was out. She was here. Tears rolled down my face and I could hear Joel sobbing saying, "sweetie, that's our baby girl." Then he disappeared for a few seconds and returned holding my precious Cassidy, cooing to her softly. He handed her to me and for the first time, I looked my baby girl in the eyes. So this is who had been kicking, wiggling and hiccupping inside of me all these months. I now had a face to put with the movements and it was the most beautiful sight I'd ever seen.
"Hi baby girl. I'm your mommy."  Your mommy. Wow. In just a matter of seconds, my life was totally changed. All that pushing, exhaustion and fear melted away. Joel and I were parents. I have never loved him more.
Everything after that was a blur (they had given me nitrous oxide during the procedure, much to my chagrin, and I was pretty loopy, unfortunately), but I remember being wheeled to the recovery room and getting to see my parents, then my sister and her family and in-laws. Everyone was teary-eyed and so, so happy. It was beautiful.
Recovery wasn't bad at all. I had the most amazing, sweet, and patient nurses who took exceptional care of me. Poor Joel had to sleep on an uncomfortable futon with a limited amount of pillows that kept getting stolen from him by the nurses to make me and the baby more comfortable. I ended up with about 9 pillows, while Joel was lucky to have even 1. We had a good laugh at this later.
We spent 4 nights in the hospital (which I really enjoyed, actually!) and had lots of visitors. I will always look back on my time in that little recovery room with such fond memories- working on nursing, visiting with friends and family and cuddling with my sweet baby.
Just as quickly as it had all happened, it was time to go home. Thank goodness for my sweet mother who has stayed with us to help (the BIGGEST blessing in the universe!). It was time for us to join the ranks of moms and dads all over the world. A new chapter. Which brings me back to the long list of gripes…remember those? No sleep. Unbrushed teeth. Unshaven legs. Blah, blah, blah. But there's another list. A list of all the beautiful, wonderful moments I get to share with my little girl on a daily basis. Things like rocking her to sleep singing Sondheim melodies and Edelweiss from The Sound of Music (her favorite), feeding her a bottle and seeing her sweet face watching me intently, seeing her smile in her sleep (heart-melting!), cuddling with her first thing in the morning, watching Joel hold her…I could go on and on and on. My little red headed girl is the greatest blessing in my life. I look into her face and see the miracles of God. Joel and I made that. Childbirth really is a miracle. I see that now.