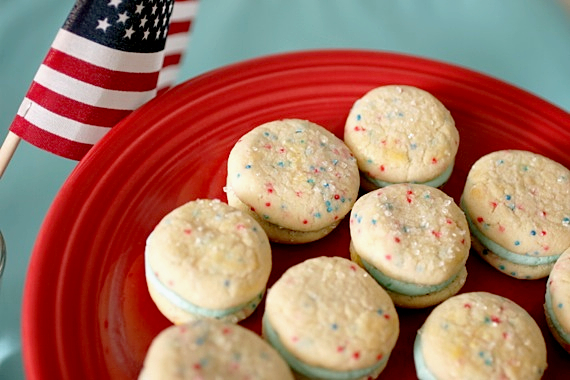 The 4th of July is almost upon us! Yippee! What a great holiday – a whole day spent with family and friends out grilling, swimming, eating, watching fireworks…all the best things! Growing up, my family had a lakehouse (built from the ground-up by my Grandaddy), and we'd spend every 4th of July there. Swimming in the lake, eating watermelon, and watching the fireworks from the boat dock. Happy, happy times!
I love making fun 4th of July desserts every year (like these cute cupcakes) and this year was extra fun! What's better than sweet, fluffy buttercream sandwiched between soft, chewy sugar cookies studded with red, white, and blue sprinkles?! FUN, I tell you!
Star Spangled Sandwich Cookies
2 cups all-purpose flour
1/2 teaspoon salt
1/2 teaspoon baking powder
1 stick plus 2 tablespoons (10 tablespoons) unsalted butter, at room temperature
1 cup sugar
1 large egg
1 large egg yolk
1 teaspoon pure vanilla extract
1/4 teaspoon almond extract
Red, white, and blue sprinkles
white sanding sugar
For the buttercream:
1 stick unsalted butter, at room temperature
3-4 cups confectioners' sugar
1 teaspoon vanilla extract
1/4 teaspoon almond extract
pinch salt
splash milk (optional)
blue food coloring
Preheat the oven to 350 degrees. Line two baking sheets with parchment paper or silicone mats.
Whisk the flour, salt, and baking powder together.
Working with a stand mixer fitted with a paddle attachment, or with a hand mixer in a large bowl, beat the butter at medium speed until smooth. Add the sugar and continue to beat for about 2 minutes, until the mixture is light and pale. Add the egg and yolk and beat for another minute or two; beat in the vanilla and almond extract. Reduce the mixer speed to low and steadily add the flour mixture, mixing only until it has been incorporated. Slowly stir in the red, white, and blue sprinkles.
Using a teaspoon, scoop out the dough, roll into balls, and place on the baking sheets; press down gently to flatten slightly. Sprinkle with the sanding sugar before baking.
Bake the cookies for 8-9 minutes. The cookies should feel firm, but they should not color much, if at all. Cool completely.
To make the buttercream, beat the butter on medium speed until smooth. Add in the powdered sugar a little at a time until desired consistency is reached (it should be fairly think, but easily spread or piped.). Add in the vanilla extract, almond extract and salt. If icing is too thick, stir in a little milk. Gently stir in as much food coloring as you want to make it the desired color of blue.
Pipe or spread the buttercream on half of the cookies; place other half of the cookies on top to make sandwiches. Makes approximately 20-24 cookies.
Recipe source: cookie recipe adapted from Dorie Greenspan; buttercream is a Sing For Your Supper original