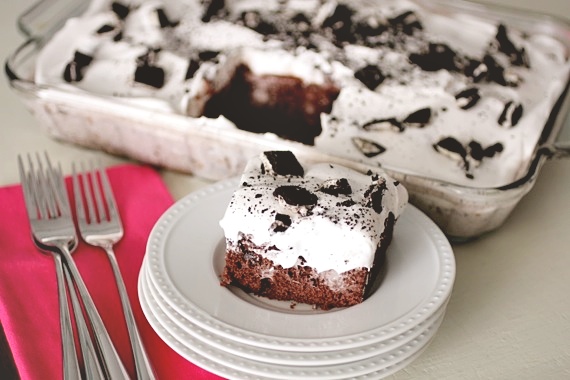 Poke cakes have been around for ages. I'm not sure when they first hit the scene, but I bet if we could peek back in time, we'd find Martha Washington bringing a poke cake to the Revolutionary potluck (what? It could've happened…). Poke cakes are an American tradition, after all. 🙂
My favorite poke cake is this Piña Colada Cake, which is drizzled with cream of coconut (nectar of the gods, I tell you!) while hot and topped with pineapple-y whipped cream. A family favorite. BUT this Oreo version is pretty stinking awesome as well. Rich devil's food cake studded with crushed Oreos, drizzled with Oreo pudding, then sprinkled with MORE crushed Oreos, and finally topped with whipped cream and you guessed it, more Oreos. An Oreo lovers' dream come true.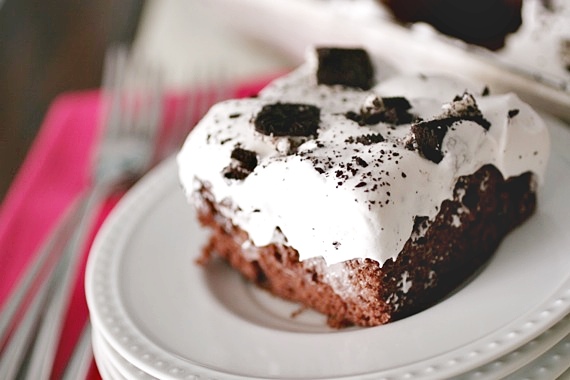 Chocolate Oreo Poke Cake
1 box Devil's Food cake mix
Oreos, roughly chopped (you'll need almost an entire package. I use double-stuff)
1 large packet instant Oreo pudding
2 cups milk
1 small tub Cool Whip
Prepare the devil's food cake as directed on box; stir in a large handful of the chopped Oreos. Pour batter into a greased 9×13 dish and bake at 350 degrees for about 30 minutes, until a toothpick inserted in the middle comes out clean.
Combine the milk and Oreo pudding mix in a medium-sized bowl and whisk until smooth.
Using a chopstick or the end of a wooden spoon (while the cake is still warm), poke holes all over the top of the cake. Pour the pudding over the cake and spread evenly so it will soak into all of the holes (you'll need to do all of this fairly quickly as the pudding will set and get thick after a couple of minutes). Top with more chopped Oreos. Allow cake to cool completely. Spread the Cool Whip over the top of the cake and sprinkle with more chopped Oreos. Refrigerate for at least an hour. Serves 12.
Recipe source: I didn't follow any specific recipe, but I'm sure this particular poke cake has been around for awhile.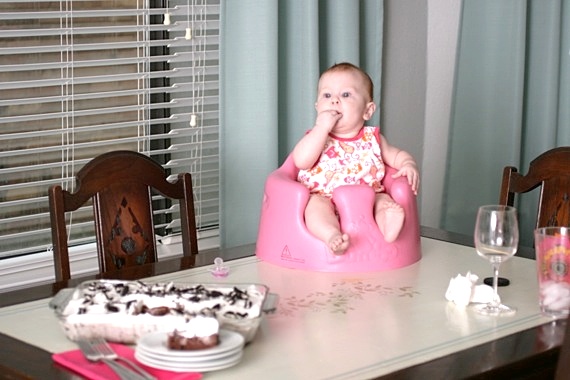 My little photographer's assistant! 🙂