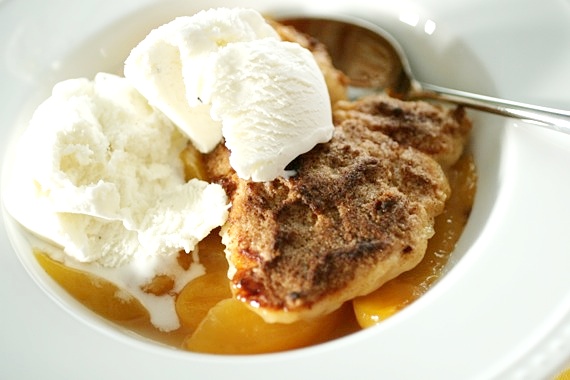 You've heard me talk about Baba's peach cobbler a LOT, right? And how I've always been too scared to make one because it'll never stand up to hers? Remember? Well…..
This is not Baba's peach cobbler.
Although, I did make one (and it was goooood). But I'll show you that one next. In case you're wondering, this week, I'm only posting peach cobbler recipes. It's Peach Cobbler Week at Sing For Your Supper! Exciting, right?! Right! Why do I need so much peach cobbler in my life, you ask? Because it's heaven. It's my favorite dessert on the entire earth. Soft, sweet, peachy goodness topped with tender, buttery crust….oh gosh. I'm getting all excited just thinking about it!
I've eaten a lot of cobblers in my 28 years and generally, there are two kinds of cobbler folk: those who make theirs with biscuit topping (what my family calls "yankee cobbler"), and those who make a pie crust topping. My family, Baba included, is the latter. However, I decided one day I'd break tradition and give the biscuit-topped cobbler a chance. While is still doesn't live up to Baba's cobbler (in my opinion), it's still really, REALLY good.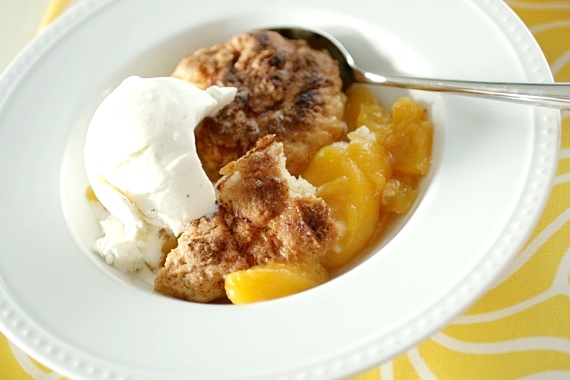 Traditional Peach Cobbler
4 cups peaches, peeled and sliced
1 cup sugar
squirt fresh lemon juice
1 cup all-purpose flour
1/4 cup white sugar
1/4 cup brown sugar
1 teaspoon baking powder
1/2 teaspoon salt
6 tablespoons unsalted butter, chilled and cut into small pieces
1/4 cup boiling water
For Cinnamon-Sugar Mixture:
3 tablespoons white sugar
1 teaspoon ground cinnamon
Preheat oven to 400 degrees.
Place the sliced peaches in a large pot and add just enough water to cover. Stir in the 1 cup sugar and lemon juice and bring to a boil. Reduce heat to low and simmer, uncovered, until peaches are soft and most of the water has cooked down; about 20 minutes. Remove peaches with a slotted spoon and reserve 1/2 cup juice.
Place peaches and reserved juice in a greased 9×9 baking dish.
To make the topping: In a large bowl, combine flour, 1/4 cup white sugar, 1/4 cup brown sugar, baking powder, and salt. Blend in butter with your fingertips or a pastry blender until texture resembles oatmeal or small peas. Stir in water until just combined.
Drop spoonfuls of topping over the peaches and sprinkle with the sugar and cinnamon mixture. Bake until topping is golden, about 30 minutes. Serves 6.
Recipe source: adapted from allrecipes.com