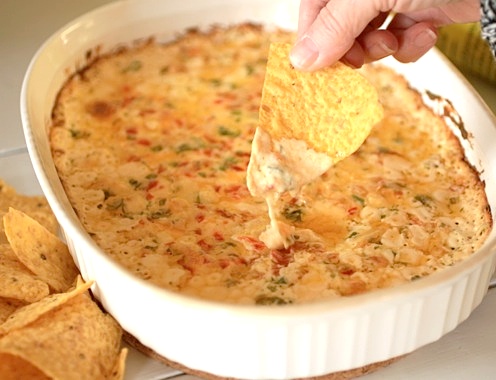 Have you ever noticed how almost every single party dish revolves around cheese?? Dips, cheese balls, cheese logs, pinwheels….it seems almost every single holiday recipe starts with an 8 ounce package of cream cheese. Not that I'm complaining! However, since learning of my lactose intolerance (and my mom's, and possibly my sister's), I tend to pay more attention to these things nowadays. I try to cut down on the amount of cheese dishes I make when I host parties. Goat cheese doesn't count, thank the Good Lord (I'm not affected by goat's milk, just cow's milk), so there's ALWAYS plenty of that! 🙂 So, this year, instead of a cheese ball (or two) and a couple of cheesy dips, I chose only one cheesy dish. This Baked Pimento Cheese Dip. Josie debuted it first, then Annie. After drooling over it on both girls' blogs, I finally decided it was time to make it! Perfect party food, easy to make, and definitely a crowd-pleaser. What more could you ask for?
Baked Tex-Mex Pimiento Cheese
1/4 cup mayonnaise
1/4 cup greek yogurt
8 ounces cream cheese, softened to room temperature (reduced fat is fine)
3/4 cup chopped roasted red bell pepper
1 jalapeno pepper, seeds and ribs removed, chopped finely
8 oz extra sharp cheddar, grated (about 2 cups)
8 oz Pepperjack cheese, grated
1/3 cup minced scallion (2-3 scallions)
1/3 cup minced fresh cilantro
1 tsp Worcestershire sauce
1/4 tsp red pepper flakes (more or less to taste)
salt and pepper to taste
tortilla chips, for serving
Preheat the oven to 350 degrees and lightly grease a 2-quart baking dish.
In a large bowl, combine all the ingredients for the dip, reserving 1 tablespoon of each cheese for topping.  Mix well and spoon mixture into the baking dish.
Top with the reserved cheese and bake 20-25 minutes, until hot and bubbly.  Garnish with additional cilantro, and serve with tortilla chips.
Recipe source: adapted from Pink Parsley; originally from Southern Living