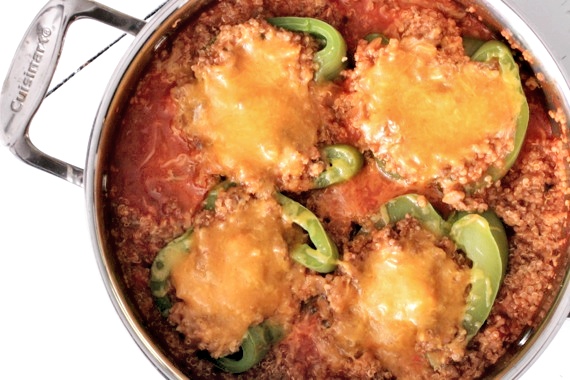 One of my favorite meals is my mom's stuffed peppers; and over the past couple of years, every time I've made it, I've asked myself, "what if I used quinoa in place of the rice?". Joel and I both love quinoa, so this was a no-brainer. Finally, I did it, and surprise, surprise- we loved it! This dish is SO full of flavor- I'm so happy with it every single time I make it, which has earned it a regular spot in our dinner rotation. The best part is, my baby girl loves it (and I feel great about giving it to her)!
Quinoa Stuffed Peppers
2 medium bell peppers
1 teaspoon sugar
1/2 teaspoon basil
1 15-ounce can tomato sauce
1 pound lean ground beef
1 small onion, chopped
1 1/2 cups quinoa, thoroughly rinsed and cooked
1/2 cup grated cheddar cheese
Cut peppers in half lengthwise. Bring a large pot of salted water to a boil, drop the peppers in and boil for 5-6 minutes. In a small bowl, mix tomato sauce, basil, and sugar and set aside. Brown meat and onion in a large skillet; drain. Stir in the tomato sauce, salt, and cooked quinoa. Cover and simmer for 5 minutes. Spoon meat/quinoa mixture into peppers and place into skillet. Pour any remaining meat mixture around the peppers (you should have quite a bit left). Top with cheese. Cover and cook on low for another 8-10 minutes. Serves 4.
Recipe source: adapted from my mom's recipe
**Looking for good, non-candy ideas for your baby's Easter basket? Check out my list of helpful ideas at my family blog, A Little Something Lovely!