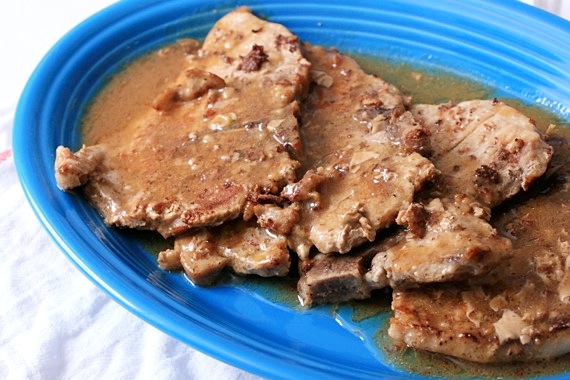 For some reason pork chops always get neglected at my house. I really like them (and so does Joel!) but for whatever reason, I just don't think about them when I'm menu planning. Poor pork chops. Too bad, too, because pork chops are GOOD! I love them cooked this way, and especially this way. But now I have a new favorite way to prepare them- smothered! Brown them on each side until they're nicely seared, make a yummy gravy with the drippings, then pour it over the chops and bake them in the oven for about 30 minutes. Fast, easy, and super tasty.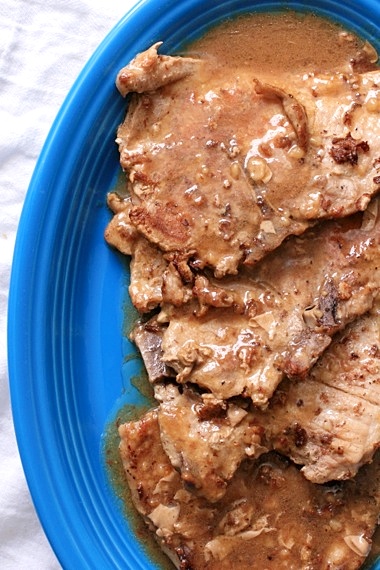 Smothered Pork Chops
4 center cut pork chops, about an inch thick or so
1 tablespoon butter
1 tablespoon flour
1/2 cup white wine (preferably one that's not too sweet, like pino grigio or chardonnay)
1/2 cup water
1/4 cup Italian salad dressing (I like Newman's Own Family Italian)
salt and pepper
Preheat the oven to 400 degrees. Melt the butter in a large pan over medium-high heat. Brown the pork chops for about 5 minutes on each side, until they have a nice sear (depending on the size of your skillet, you may have to do this in two batches). Remove from pan and place in a greased baking dish.
Reduce the heat to medium-low and sprinkle the flour into the drippings and stir for about 30 seconds, so the flour taste can cook out. Slowly whisk in the white wine, water, and salad dressing. Whisk until there are no lumps and gravy starts to thicken, about 5 minutes. Season with salt and pepper to taste. Pour the gravy over the pork chops. Cover with foil and bake for 30 to 35 minutes. Serves 4.
Recipe source: Sing For Your Supper original