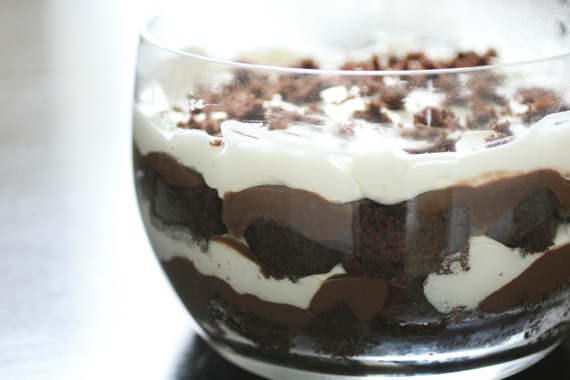 This week, I'll be sharing not one, but two awesome trifle recipes! I know…that's kinda weird to just randomly post a bunch of trifle recipes, but I have a reason. 🙂 We threw a graduation party for the son of our good friends a couple of weeks ago and when I asked his mother what his favorite dessert is, she told me he loves chocolate cake and my lemon-lime sugar cookie truffles. I wanted to do something unique that incorporated both of his favorite things, and after lots of thought, ended up making two kinds of trifles- chocolate and lemon. They were both a huge success! I really love this kind of dessert, not only because can they be made ahead of time (and should be!), they're super simple to throw together and the result is always fantastic.
This trifle features chocolate cake soaked with coffee, then drizzled with a bit of hot fudge and layered with chocolate pudding and cool whip. I'm not kidding when I say this is decadent. The best part is, the longer it sits, the better it gets.  I love "soggy" desserts, so naturally, this one ranks pretty high on my list. If you're looking for a dessert that looks beautiful, tastes amazing, and requires minimal time and effort, this one's for you!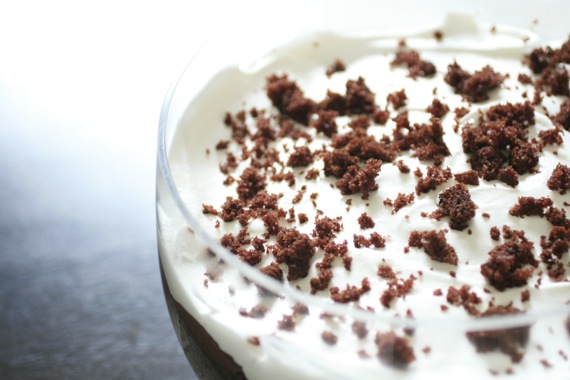 Decadent Chocolate Trifle
1 chocolate cake, baked, cooled, and cut into cubes (you may have some left over- save 'em for a snack!)
hot fudge, for drizzling
1/2 cup freshly brewed coffee that has been allowed to cool
2 3.4-oz. boxes chocolate pudding mix
4 cups milk
1 16-oz. container Cool Whip
Whisk together the pudding mix and milk until thick; about 2 minutes. Set aside.
In a trifle dish or large glass bowl, place half of the cake cubes in a single layer; spoon over half of the coffee, then drizzle a small amount of hot fudge over the cake. Spoon half of the chocolate pudding and spread evenly, then half of the cool whip. Repeat layers, reserving one or two small pieces of cake for the top. When layers are complete, crumble the cake and sprinkle over the top of the cool whip for decoration. Refrigerate for at least 4 hours before serving. Serves 12.
Recipe source: Sing For Your Supper original