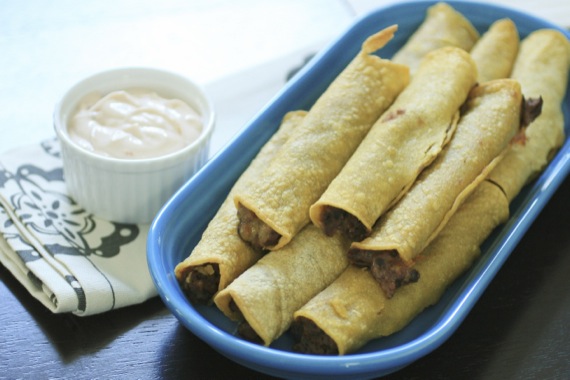 Hi friends! I hope everybody had a great 4th of July weekend! We had the whole family over Thursday, and then Joel took off work Friday through yesterday, so we've had a great, loooooong weekend! We ate out, saw the new Star Trek movie (finally), had brunch, slept in, went shopping, and lounged by the pool. I love stay-cations! Unfortunately, that means I'm way behind on my blogging (as if I weren't already…). So let's get back to it!
You know those crunchy black bean tacos I love so much? Well, these are their not-so-distant cousins. As much as I love the tacos, I wasn't in the mood to stand over the frying pan for a long period of time. So I decided to make baked taquitos instead of tacos! The filling is the same, but you could easily add meat and customize it any way you like. These are crunchy, crispy, and oozing with cheesy bean filling- super yummy!
Crispy Baked Black Bean Taquitos
1 can black beans
12 corn tortillas
small handful chopped cilantro
1 1/2 tablespoons salsa
1/4 teaspoon salt
shredded cheddar cheese
vegetable oil
Preheat the oven to 400 degrees. In a small bowl, mash the black beans with the back of a fork; stir in the cilantro, salsa, and salt. Set aside.
In a skillet, heat a few tablespoons of vegetable oil over medium-high heat. Have your bean filling nearby. Place one of the tortillas in the hot oil and cook for 30 seconds or so on each side; remove from oil and place on a work surface. Spread some of the bean filling over the tortilla, then sprinkle with cheese. Roll the tortilla up and place on a baking sheet. Repeat with the rest of the tortillas and filling. Bake for about 10 minutes, until crisp. Serves 3-4.
Serve with guacamole, sour cream, and/or salsa. I like to stir a little salsa into my sour cream to make an easy dip.
Recipe source: Sing For Your Supper original