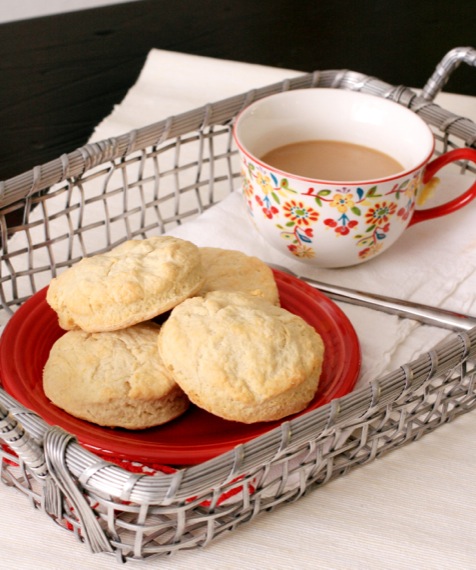 Raise your hand if you love breakfast for dinner. Me too. Something about getting to drink coffee at night is strangely fun for me. Speaking of that, isn't it funny how old people always drink coffee with their dinner? In our little town, you'll go to a restaurant and see an old couple eating mexican food and drinking coffee. Weird.
Anyway, about these biscuits. Now, normally, I would insist on making my great-grandmother's biscuits, since that was her thing. Baba was a very gifted cook, but I think she would agree with me when I say biscuits were her specialty (well, it may be a tie with her peach cobbler.). However, I don't exactly have the recipe. Once I tried making them from the cookbook my mom said Baba always used for her biscuits, but something wasn't right. Honestly, for whatever reason, I'm too scared to make Baba's biscuits. Just add it to the list of things I'm too chicken to make (my mom's fried okra, chicken fried steak, anything involving yeast…the list, unfortunately, goes on).
So this time, I chose Deb of Smitten Kitchen's recipe. And they were really, really good. So perfect hot from the oven and smeared with butter alongside a cup of coffee. And far too easy to continue making store-bought. Frankly, there's just no comparison.
Buttermilk Biscuits
2 1/4 cups all-purpose flour
1 teaspoon sugar (to taste; you can use more or less. I don't like mine to be overly sweet)
1 tablespoon baking powder
3/4 teaspoon salt
3/4 teaspoon baking soda
9 tablespoons chilled unsalted butter, cut into small chunks
3/4 cup buttermilk
Preheat oven to 400 °F and line baking sheet with parchment paper. Whisk flour, sugar, baking powder, salt and baking soda in large, wide bowl. Using fingertips or a pastry blender, work butter into dry ingredients until the mixture resembles a coarse meal, Add buttermilk and stir until large clumps form. Using hands, knead mixture briefly until it just holds together.
Transfer dough to floured counter and pat out until 1/2 to 3/4-inch thick. Using a round cutter (about 2 inches; I always use a small juice glass, like my great-grandmother did), press straight down — twisting produces less layered sides — and transfer rounds to baking sheet, spacing two inches apart.
Bake until biscuits are golden brown on top, about 12 to 15 minutes. Serve warm. Makes approximately 9 biscuits.
Recipe source: barely adapted from Smitten Kitchen