I'm an extremely dramatic person. Those of you who know me or gave birth to me (hi, mom!) know this for a fact. I bring the drama wherever I go. Not necessarily always in a bad way- sometimes I'm just very dramatically funny, or loud, or goofy (drama's not always a bad thing, you know.). However, sometimes it can be a bad thing; like on days when something goes wrong or something disappointing happens, I totally succumb to the drama and immerse myself in a could of moodiness instead of accepting what happened and simply moving on. I walk around in a fog. Just for the record- that's not a good thing. It's one of the characteristics I most dislike in myself. There's always that little voice in my head saying, "just move on, Amy. There's still so much to be happy about!"; but it's so much easier to be dramatic. Slowly but surely, I'm trying to fix this.
Like today, for instance. I had sort of a rough morning, but chose to rise above the drama and just move on. Know what I did? I lit a pumpkin-scented candle, put on some music, and baked these pumpkin mini bundts with my baby girl (she mostly just sat in the floor and played with a whisk). And it really helped!! I pulled them out of the oven and realized I hadn't felt sorry for myself or dwelt on the bad news at all! Nothing like a little fall baking to pull you out of a slump!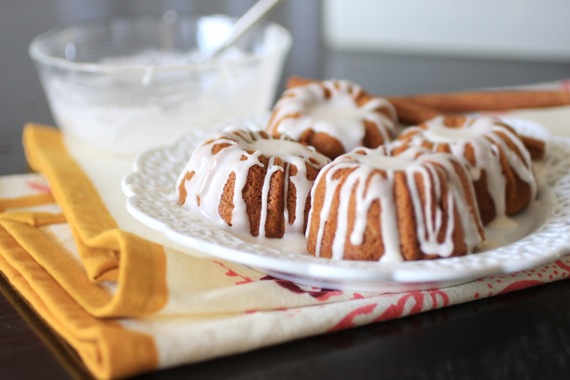 Now, let's talk about these mini bundts! Aren't they just adorable?! And so easy- all I did was take the recipe for my pumpkin pound cake (with a couple of tiny tweaks), bake it into mini bundts, and whip up a quick and easy cinnamon glaze! The house smells amazing and my blues are long gone! 🙂 I'll be honest with you, I actually had to level off the bottoms of these because they rose quite a bit during baking, but that was no biggie- Cassidy loved snacking on the bottoms!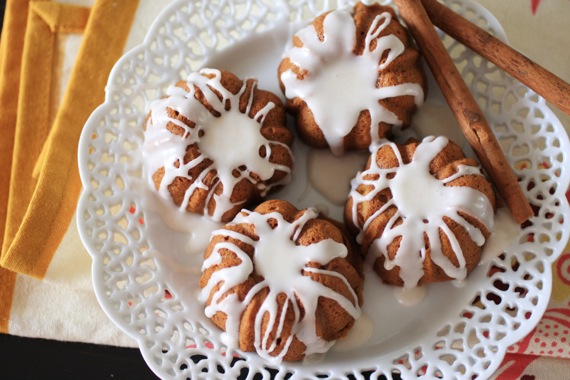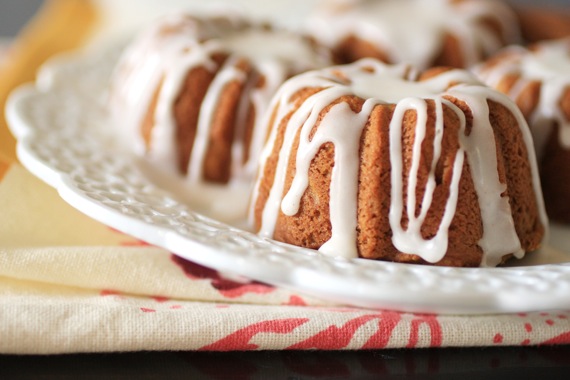 Pumpkin Mini Bundts with Cinnamon Glaze
1 cup granulated sugar
1 cup brown sugar
1 cup canola oil
3 eggs
3 cups all-purpose flour
2 teaspoons baking soda
1 teaspoon ground cinnamon
1 teaspoon ground nutmeg
1/4 teaspoon ground cloves
1/8 teaspoon ground ginger
1/2 teaspoon salt
1 package instant butterscotch pudding mix
1 can (15 ounces) pumpkin puree
In a large bowl, combine sugar and oil until blended. Add eggs, one at a time, beating well after each addition. In a separate bowl, combine flour, baking soda, cinnamon, nutmeg, cloves, ginger, salt, and pudding mix; add to egg mixture alternately with pumpkin, beating well after each addition. Batter will be thick.
Transfer to 2 greased mini bundt pans (if you don't have 2 pans, just bake one pan at a time). Bake at 350 degrees for about 20 minutes or until toothpick inserted comes out clean. Cool for 10 minutes before inverting onto a wire rack. If cakes rose too much during baking (as mine did), simply level off with a sharp knife and save the bottoms for snacking!). Makes 24 mini bunts.
Glaze:
1 cup confectioners' sugar
1/4 teaspoon cinnamon
splash milk
Mix all ingredients together until glaze reaches a thick consistency; just make sure it's still runny enough to drizzle. Drizzle over cakes and serve.
Recipe source: adapted from a Sing For Your Supper recipe; originally adapted from Taste of Home