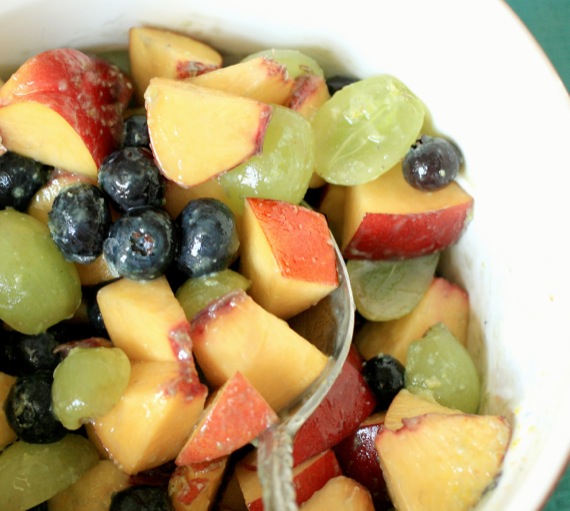 Well, after making this (about 80 times now), I can tell you my fruit salad will never be the same! I used to struggle with fruit salads. Unless it was this version, they were just "ok" to me, but never something I'd go out of my way to make or eat. Who knew all it takes is one little secret ingredient to make your fruit salad sing?! 🙂
My sister told me about this little "tip" a long time ago and thought it sounded disgusting. I imagined overly-sweet, gloppy fruit salad. Not appetizing. However, one evening, I had some really under-ripe, really "blah" nectarines that I wanted to make a fruit salad with, only, they had basically zero taste. I remembered a box of vanilla pudding mix in my pantry and tossed in a small spoonful. WOW, what a difference! It brought out all kinds of flavor from the sad little nectarines, added a faint sweetness, and made everything taste deliciously 'vanilla-y' . We inhaled this fruit salad, then I proceeded to make it again, and again, and again.
Secret Ingredient Fruit Salad
2 nectarines or peaches, cut up into chunks
1/2 pint blueberries
handful green grapes, cut into halves
1/2 pint strawberries, hulled and sliced
1 tablespoon instant vanilla pudding mix **
Toss fruit and pudding mix. Chill for at least 30 minutes before serving. Serves 4-6.
**feel free to use more pudding mix if you like it really 'vanilla-y'. I prefer just a hint.
Recipe source: my sister's coworker