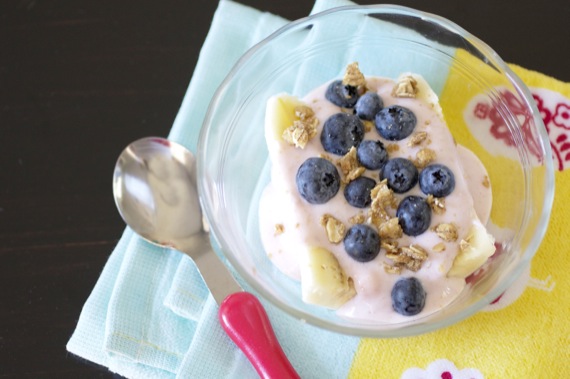 Since Cassidy came along, I've done a few kid-friendly posts here and there and even some homemade baby food, but I still get lots of requests for more kid recipes. Honestly, since she's still so young, I haven't done all that many recipes just for kids; mainly because Cassidy just eats whatever we eat. If I cook kale, butternut squash, and quinoa soup for dinner, that's what Cassidy eats. However, since my little bitty baby is quickly growing into a spunky, energetic, opinionated LITTLE GIRL (for heaven's sake, I'm going to burst into tears just typing that!), I've been making more kid-friendly, fun meals for her.
This week, I'll share two such recipes with you. Starting with this breakfast banana split. How cute is that?! Last Christmas, my uncle and aunt sent Cassidy and me a cute little cookbook just for kids, which is adorable. Cassidy loves to flip through the pages and look at each picture and recipe and say, "mmm!!" as she takes a pretend bite with her chubby little fingers. I seriously adore this kid.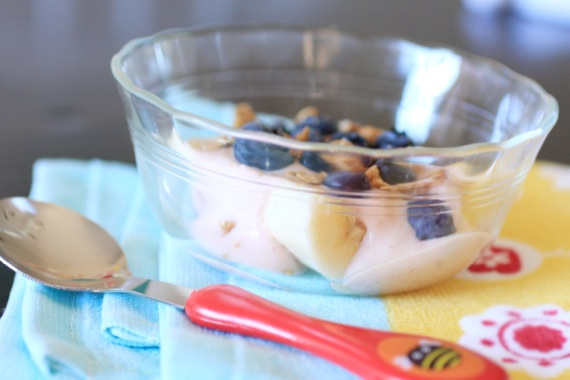 Anyway, it's sort of easy for me to get into a breakfast rut with Cassidy. And when the same old things start getting old, recipes like this are a welcome, adorable change of pace! Just layer sliced bananas with your favorite yogurt, then top with blueberries and a bit of granola. You can use any fruits you like and as many toppings as you want! The sky's the limit!
Let your kiddo choose what toppings she wants, then let her enjoy her own special creation for breakfast! Such fun!!
Breakfast Banana Splits
half a banana, sliced in half length-wise
1 4 or 6-oz. individual-size cup yogurt (we like strawberry greek yogurt)
blueberries
granola
Lay the sliced banana in a small bowl and top with yogurt, blueberries, and granola. Let your kids help you put it all together and create their own masterpiece! Serves 1.
Recipe source: adapted from Gooseberry Patch Kids in the Kitchen