I've been baking lots of cookies lately. We've recently had two sets of friends welcome new babies and then we hosted a party Saturday as well. And everyone knows you can't have babies or parties without cookies…I guess. Not to mention, I just really, really like baking cookies.
In addition to taking meals to my friends, I also made my favorite oatmeal cookies as well as these gingersnaps to welcome their new little bundles. My favorite thing to do for new parents is take them bags of frozen, perfectly portioned balls of cookie dough (in addition to some already baked ones) for them to keep in their freezer. Then, all they need to do is pull a couple out and pop them in the oven anytime they want fresh baked cookies!
I am such a good friend.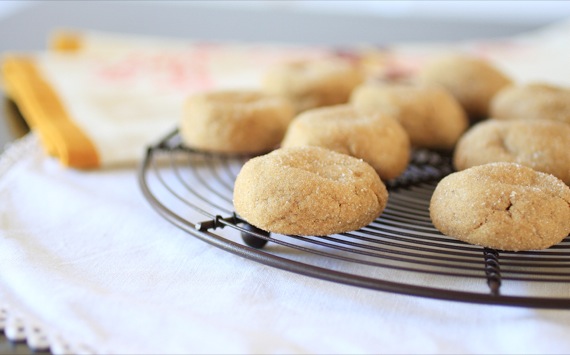 I had seen these cookies recently and knew I just had to make them ASAP. There's a nip in the air (when I say 'nip', I really mean 85 degrees instead of 95), pumpkins are everywhere you look, and Halloween is just around the corner-  perfect conditions for soft, gingery cookies! And these are soooo good. Chewy and puffy with a nice kick of spice. In essence, the perfect fall cookie.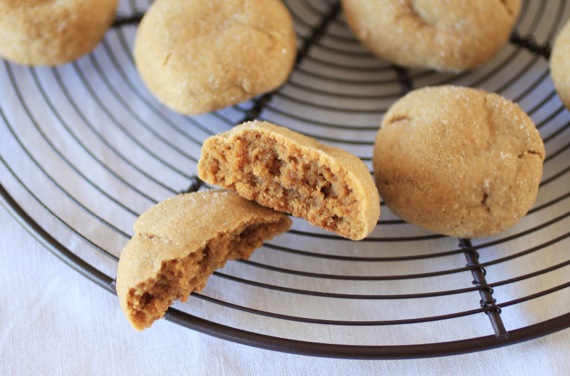 Soft and Chewy Gingersnaps
3 cups all-purpose flour
1 teaspoon baking soda
2 teaspoons ground ginger
1  1/4 teaspoons ground cinnamon
1/4 teaspoon ground cloves
1/4 teaspoon nutmeg
1/2 teaspoon salt
3/4 cup (1 1/2 sticks) unsalted butter, softened to room temperature
3/4 cup dark brown sugar
1/3 cup dark molasses
1 egg, at room temperature
2 teaspoons vanilla extract
1/3 cup granulated sugar, for rolling
In a large bowl, mix the flour, baking soda, ginger, cinnamon, cloves, nutmeg, and salt. Set aside. In the bowl of a stand or handheld mixer, beat the butter at medium speed for about a minute. Add the brown sugar and beat until light and fluffy. Add the molasses, egg, and vanilla and continue to beat until combined, scraping down the sides as needed.
With the speed on low, slowly add the dry ingredients. Do not overmix. Cover dough and chill for 4 hours or overnight.**
Line a large baking sheet with parchment paper or a silicone mat. Shape dough into 1-inch balls and roll in sugar. Place balls 2 inches apart on the prepared cookies sheets. Bake for 8-10 minutes at 350 degrees, until the edges are just turning brown – cookies will be puffy and still appear soft in the middle.
Transfer the cookies to a wire rack to cool completely. Store in an airtight container at room temperature for up to 1 week.
Recipe Source: Sally's Baking Addiction
**Sally (and I) highly recommend chilling the dough for at least 4 hours, or else the cookies will not be as puffy as shown above.