Quick and easy Asian Spaghetti made with angel hair pasta, crisp veggies, and a light sauce. The perfect side dish for any Asian-inspired meal!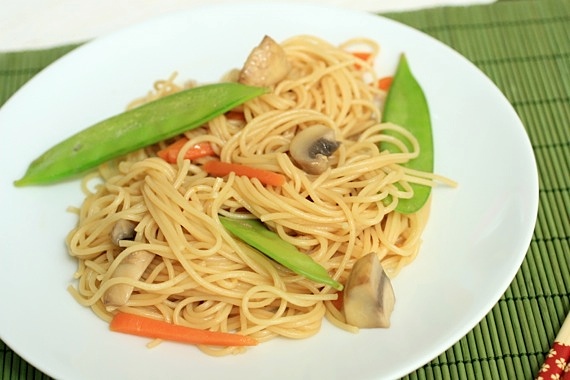 Alright, folks. It's a new year and I'm feeling good and ready to jump back in! Luckily, I'm no longer struggling with morning (aka: 24 hour) sickness and I've begun to regain a lot much of my energy that the first trimester robbed me of. I'm 16 weeks along, and we'll find out in about 3 weeks if Cassidy will have a little sister or brother. We can't wait! I've been getting back into the kitchen lots more and cooking healthy meals again (for awhile, Taco Bell was my only friend…). Now that I'm feeling better, I get to look forward to throwing Cassidy's 2nd birthday party in a few weeks! She'll be having a Curious George themed party and I'm soooo excited to put it all together!
I want to thank you all for being patient with me as I cope with the challenges of pregnancy and toddler-wrangling. I appreciate you all so much and can't tell you what your readership means to me. So, before my hormones run wild and I start getting all teary-eyed (it happens a lot, really), I'll go ahead and switch gears- let's talk about food!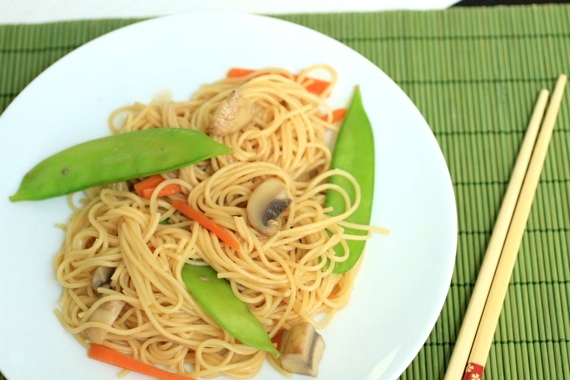 As I said before, I went through a phase where the only things I could stomach were junky, carb-y, really bad-for-you things. Don't get me wrong, there is still a half-eaten chocolate cake and a package of Soft Batch cookies in my kitchen right now, but now that I'm feeling so good, I'm really focused on eating healthier foods, along with lots of fruits and vegetables. One of my favorite go-to meals is my Asian Glazed Salmon, and this Asian Spaghetti goes perfectly with it! Light, crisp, and full of flavor. I love the crunch of the snow peas and carrots, and the light soy sauce dressing is super quick and easy. Perfect for a healthy weeknight dinner!
Asian Spaghetti
8 ounces angel hair pasta
1 cup sliced fresh mushrooms
1 cup fresh snow peas
3/4 cup shredded carrots
4 green onions, chopped
2 tablespoons canola oil
1 garlic clove, minced
1/4 cup reduced-sodium soy sauce
1 teaspoon sugar
1/4 teaspoon cayenne pepper
2 tablespoons sesame seeds, toasted
Cook pasta according to package directions. Meanwhile, in a large skillet, saute the mushrooms, snow peas, carrots and onions in oil until crisp-tender, about 5 minutes. Add garlic; cook 1 minute longer.
In a small bowl, combine the soy sauce, sugar, and cayenne. Drain pasta. Add pasta and soy sauce mixture to skillet and toss to coat. Sprinkle with sesame seeds. Serves 4-6 as a side dish.
Recipe Source: Taste of Home