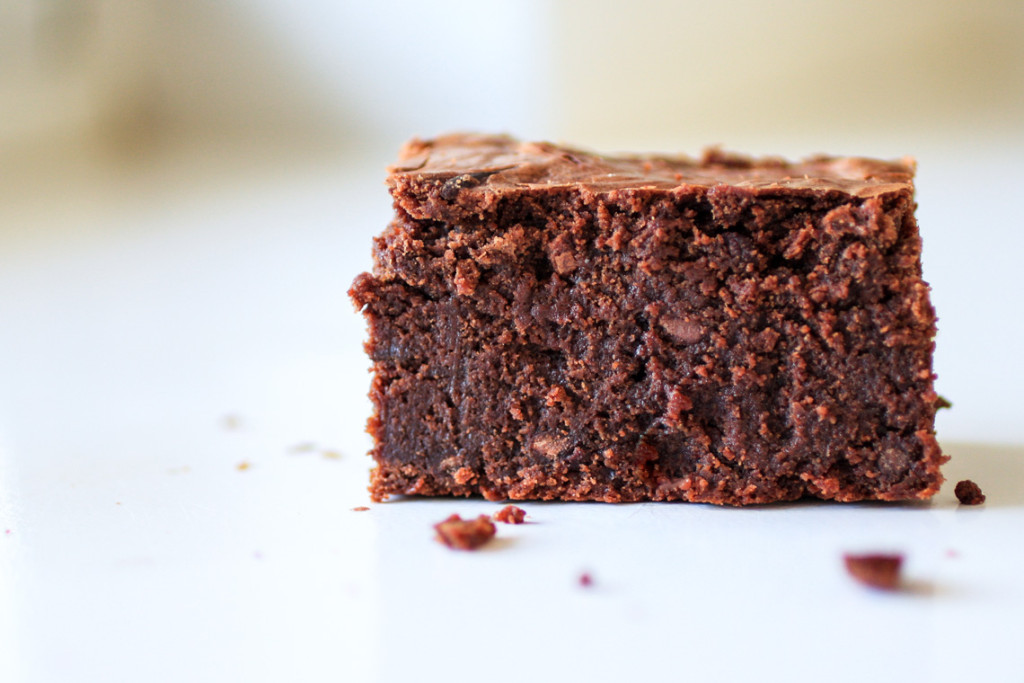 Ready for more brownies?! Hooray, 3 cheers for brownies! I have to say, I'm really sort of enjoying trying and comparing all these brownie recipes. If you're just joining us, I've already shared one brownie recipe this week and I'm still going! I just think brownies are so personal, you know? One person's "OMGTHISISTHEBESTEVER" may be another person's "meh.", which is what I've run into several times. I've tried several recipes over the years that have made me think, "really? So-and-so claims this is the best brownie ever??" This time around, I've chosen King Arthur Flour's well-known recipe.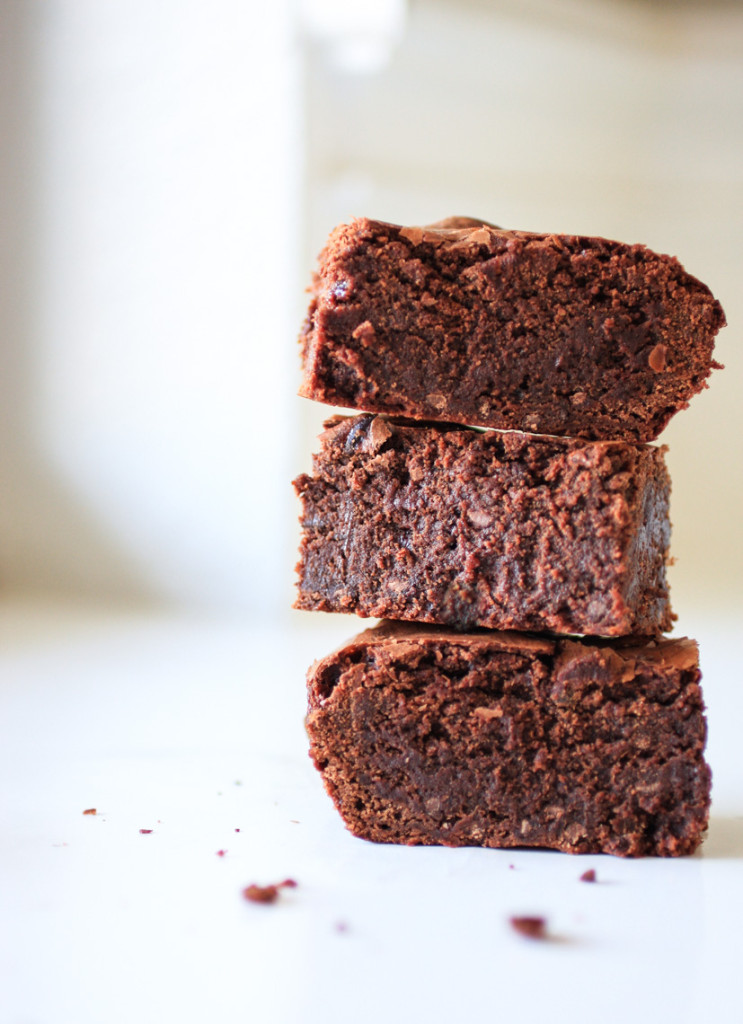 Probably nobody will remember this, but I have actually made this brownie recipe before, and claimed it to be the "best ever". However, the reason I felt like I needed to not only revisit it, but also compare it to a few more different recipes is because I added a bunch of minty crap to it (jeez. Rookie). Yeah. I added mint extract and mint chips. Don't get me wrong, I love mint/chocolate, but my older, wiser, 30 year old self now knows you don't mess with a good brownie. No nuts. No minty crap. Just brownie. If I could go back in time, I'd flick myself for that one. Probably I'd also go ahead and tell myself to steer clear of dairy…a couple of reeeeally ugly situations could've been avoided that way.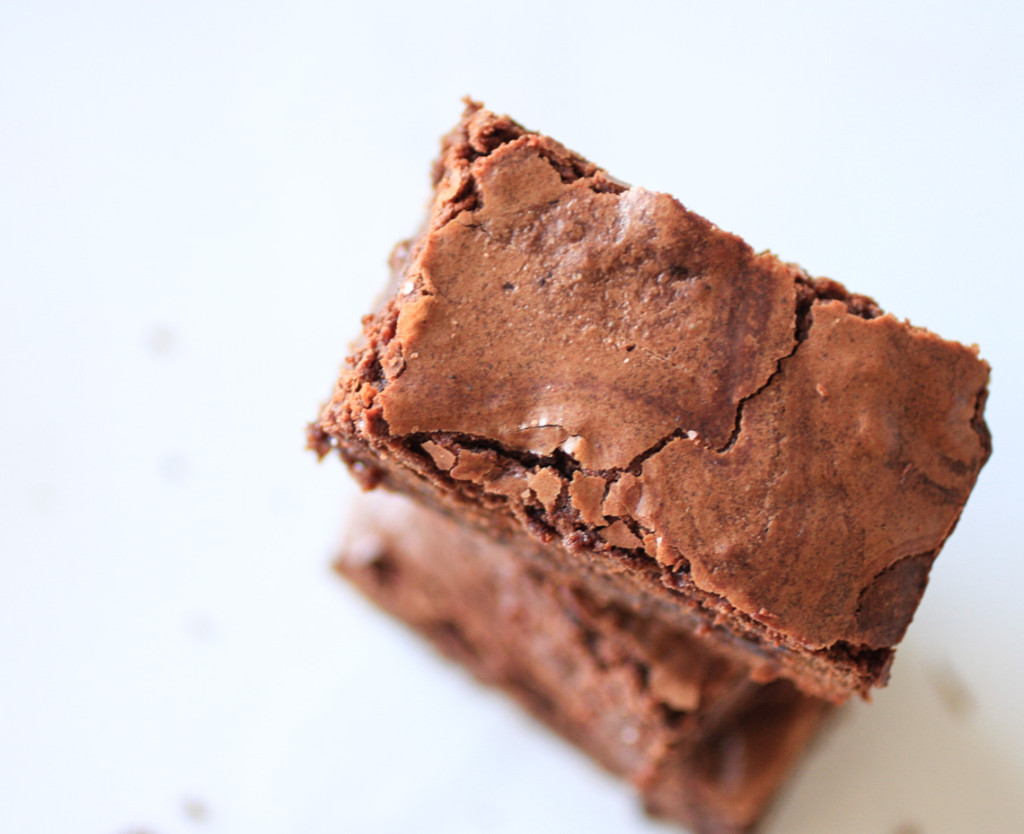 But seriously, though, just look at that perfectly paper-thin crust on top. What a beauty. The reason for that is because the butter and sugar are cooked first, allowing the sugar to mostly dissolve. That's what gives you the lovely, thin crust. Paper-thin crust is very important to me.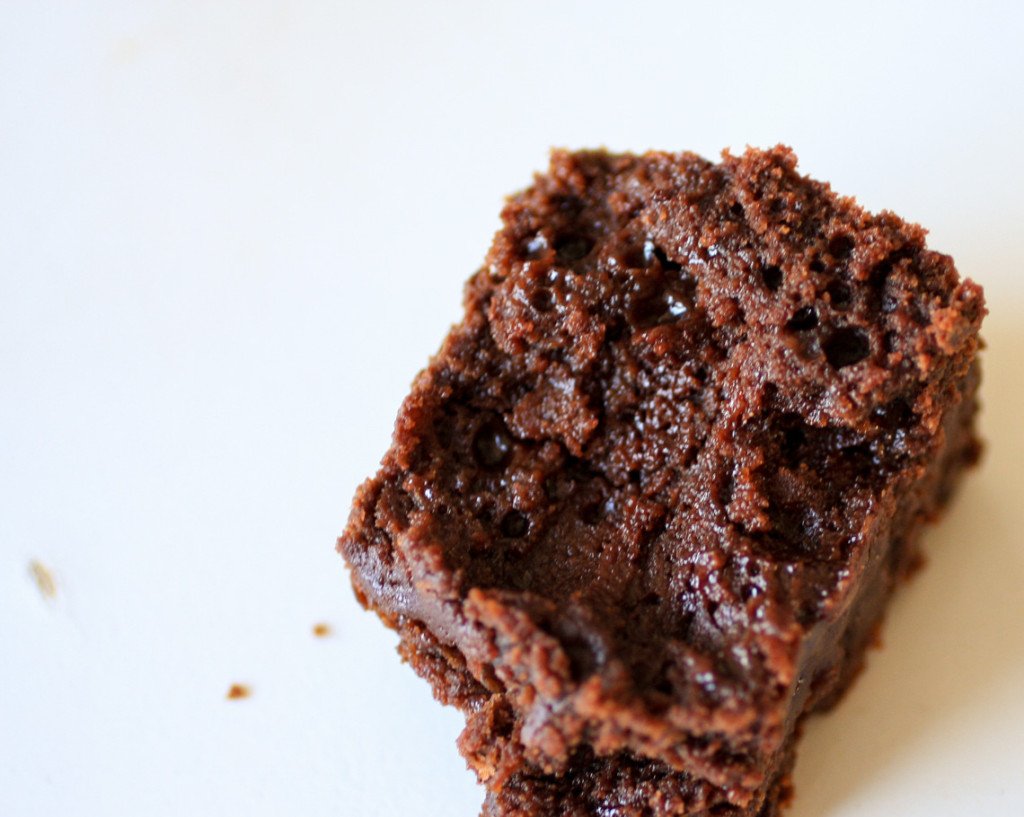 And even though the above picture is horrible, I wanted to include it to show you just HOW fudgy and rich these are on the inside. I hope you like rich brownies, because these are intensely dark and rich. And very sweet. I love the addition of espresso powder. There are 2 kinds of chocolate here- cocoa powder and semi-sweet chocolate chips. I personally love a brownie made with cocoa powder over one made with only melted chocolate, because it gives you that bitter bite that (in my opinion) adds more depth of chocolatey-ness. After one bite, I remembered immediately why '2009 Amy' claimed them to be the very best. But there's still one more recipe to try, isn't there? 😉
King Arthur Flour Fudge Brownies
4 large eggs
1 1/4 cups cocoa powder
1 teaspoon salt
1 teaspoon baking powder
1 teaspoon espresso powder
1 tablespoon vanilla extract
1 cup (2 sticks) unsalted butter
2 1/4 cups sugar
1 1/2 cups all-purpose flour
2 cups chocolate chips
Preheat the oven to 350°F. Lightly grease a 9×13 pan (you can use a 9×9, just be sure to bake them longer).
In the bowl of an electric mixer, beat the eggs with the cocoa, salt, baking powder, espresso powder, and vanilla until smooth.
In a small saucepan set over medium-low heat, melt the butter, then add the sugar and stir to combine. Continue to heat briefly, just until the mixture is hot, but not bubbling; it'll become shiny looking as you stir it. Heating the mixture to this point will dissolve more of the sugar, which will yield a shiny top crust on your brownies.
Add the hot butter mixture to the egg/cocoa mixture, stirring until smooth.
Add the flour and chips, again stirring until smooth. Note: If you want the chips to remain intact in the baked brownies, rather than melting in, let the batter cool in the bowl for about 20 minutes before stirring in the chips.
Pour the batter into the prepared pan and bake the brownies for about 30 minutes, until a toothpick inserted into the center comes out with only a few moist crumbs (you don't want to see any raw batter). Note: if you're baking in a 9×9 pan, you'll need to bake them for closer to 40-45 minutes. Keep a close eye on them, though, being careful not to overbake. Serves 8.
Recipe source: King Arthur Flour