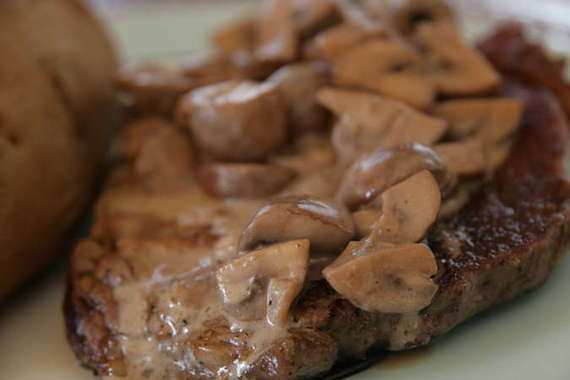 These are the steaks I mentioned a couple of days ago (one blog post below) that I made for my hubby last week. I have to say, I was a wee bit (ok more than a wee bit) proud of myself for finally (and successfully!) cooking steaks! I know – what kind of cook doesn't know how to make a good steak, right? For some reason I had always thought steaks would be too finicky for me to handle – I just knew I'd overcook them or set my kitchen on fire or something else awful. BUT – these were surprisingly super duper easy! Once again, Ina Garten comes to my rescue and makes things that once looked challenging totally approachable for me. Love her! Her recipe is for Filet Minon, but I had some great looking Ribeyes that I wanted to use instead – they worked just fine!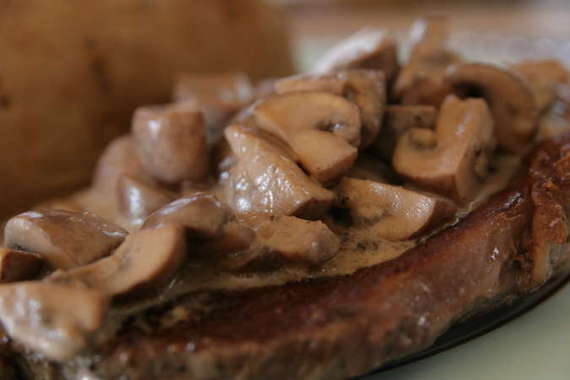 I decided to top the steaks with a mushroom cream sauce – I love mushrooms on my steak, so I thought this sauce would be really good on top – sure enough, it was deeeeelicious! Hubby absolutely loved the whole meal and I was quite surprised at how delicious it turned out (especially since it was so easy!!). Toot, toot tooooot! (That's me tooting my own horn, if you can't tell…).
Steakhouse Steaks
-Barefoot Contessa
2 (10-ounce) filet mignon (or in my case, Ribeye steaks)
2 tablespoons vegetable oil
1 tablespoon salt
1 tablespoon coarsely cracked black peppercorns
2 tablespoons unsalted butter, at room temperature, optional
Preheat the oven to 400 degrees F.
Heat a large, well-seasoned cast iron skillet over high heat until very hot, 5 to 7 minutes.
Brush the steaks with the vegetable oil on each side and season with salt and pepper.
When the skillet is ready, add the steaks and sear them evenly on both sides for about 1 1/2 minutes per side.
Top each steak with a tablespoon of butter, if using, and place the skillet in the oven. Cook the steaks until they reach 120 degrees F for rare or 125 degrees F for medium-rare on an instant-read thermometer. (To test the steaks, insert the thermometer sideways to be sure you're actually testing the middle of the steak.)
Remove the steaks to a serving platter, cover tightly with aluminum foil and allow to rest at room temperature for 10 minutes. Top with mushroom cream sauce (recipe below) and serve. Enjoy!
Mushroom Cream sauce
-Adapted from Barefoot Contessa
2 pounds baby Portobello mushrooms
1/2 cup good olive oil
1 shallot, chopped
4 tablespoons (1/2 stick) unsalted butter
2 teaspoons kosher salt
1/2 teaspoon freshly ground black pepper
1 tablespoon Worcestershire sauce
1/2 cup heavy cream (you could also use half and half)
1 tablespoon dry red wine
Brush the caps of each mushroom with a clean sponge. Remove and discard the stems. Slice the small mushrooms thickly and cut the large ones in a large dice.
Heat the olive oil in a large Dutch oven or saucepan. Add the shallots and cook over low heat for 5 minutes, or until the shallots are translucent. Add the butter, mushrooms, salt, and pepper and cook over medium heat for 8 minutes, until they are tender and begin to release their juices, stirring often. Stir in the Worcestershire sauce, red wine and cream and cook for 2 more minutes. Serve warm over steaks.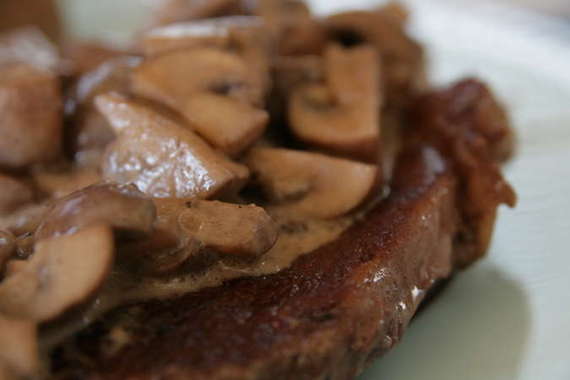 This turned out to be one of the best meals I've made in a long time – hubby kept going on and on about how good it all tasted. I always feel so good when I put a good dinner on the table for my hard-working hubby – especially when he really loves it! I know this recipe will be in my recipe box from now on…it's definitely a keeper!
OH! – and, be on the lookout….something new and exciting is in the works here at Sing For Your Supper!! I can't wait!……………