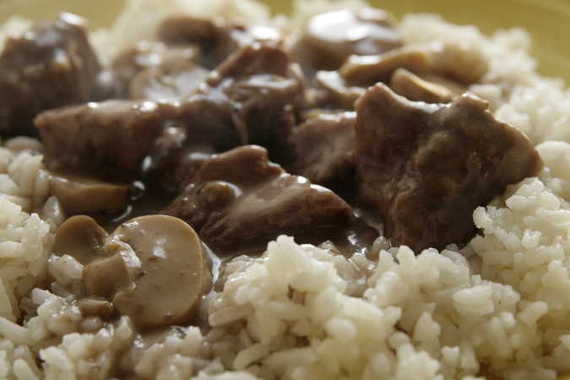 You know how sometimes you think too hard about something? You're trying so hard to come up with something new, you forget all about the old standby "somethings". That's what happens with me frequently. Now that I've sort of gotten past the point where spaghetti or a casserole was my best dish and I know a little more about food and cooking in general, I spend a lot of time trying to think up good ideas for dinners that might be a little more involved than say, spaghetti (not that there's anything wrong with spaghetti!). So the other day as I was talking on the phone to my mother and thinking aloud about what I was going to cook for dinner, throwing out all kinds of possibilities (and coming up totally empty-handed, I should mention), and she suggested that I make beef tips.  Beef tips?! Tender chunks of roast slow-cooked all day long in a thick, creamy sauce served over white rice….why didn't I think of that?! Perfect!  And it was, too – I was so glad she suggested this, because it really hit the spot and hubby loved it. When I asked him if he had ever had beef tips, he replied, "Yeah, in those microwave dinners…" Oh dear. So, I was happy to set him straight on what real beef tips were supposed to taste like! I think he was happy I did too!
So, thanks, mommy, for coming to the rescue and saving me from over-thinking my meal!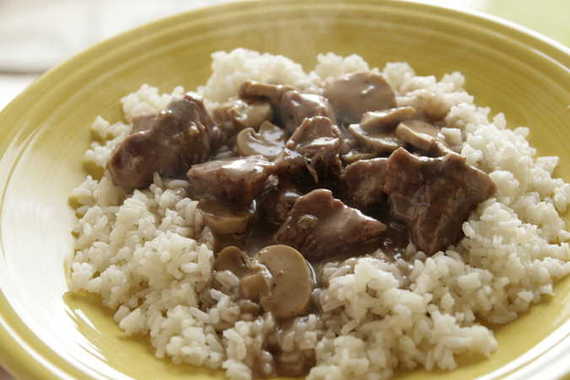 Easy Beef Tips
-recipe from MY MAMA!
1 lb. chuck roast (or any kind of roast meat you want), cut up into small chunks
1 can cream of mushroom soup
1 small can mushrooms, drained (this isn't part of the original recipe, but I thought it would be a nice addition)
Approx. 1/2 a can chicken or beef broth (If you're using homemade, I'd say to use about 1/2 cup)
cooked white rice (however much you like)
salt and pepper to taste
Season the roast with salt and pepper and place in a crock pot with the cream of mushroom soup and chicken broth (sort of mix it all together to get rid of any lumps in the soup). Cook on low heat for 6 – 8 hours. Add the mushrooms when there's just a little cooking time left. Serve over cooked rice.