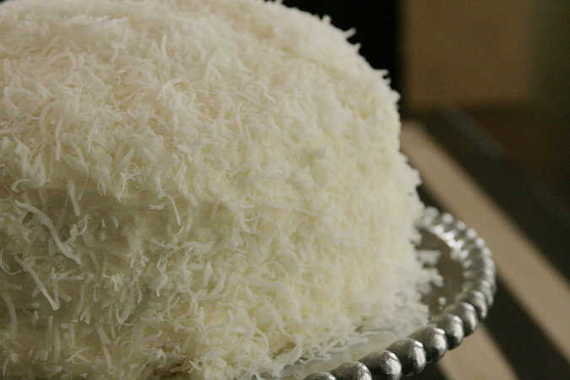 Ok, I realize saying something is "the best [fill in the blank] ever" is quite a statement.  You'd better be darn sure it's the best ever, or else everyone will start thinking you say that about everything. Well I'm sure! I'm 100% sure! This was probably the best slice of cake I ever put in my mouth – and I don't even LIKE coconut in my baked goods!!! That's big, ya'll.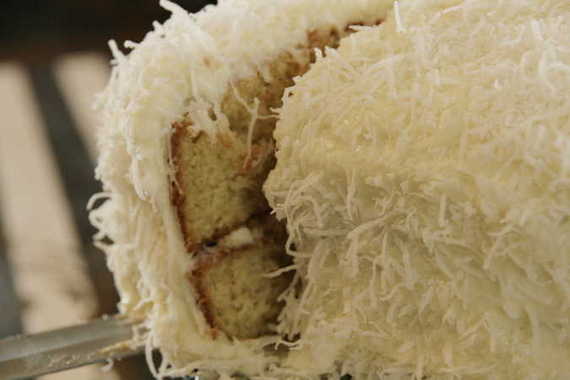 My parents were coming over for Memorial Day weekend and I wanted a yummy, summery, fun dessert to make for them. I was originally going to go with a good 'ol stand-by chocolate cake (everybody loves a chocolate cake, right?), but then this recipe for coconut cake jumped out at me from Ina Garten's Barefoot Contessa at Home cookbook and I immediately changed my mind. Although I don't much care for coconut, I knew both of my parents love it, so I figured I'd just make the sacrifice and please everyone else – I'd just have a little taste of it. Well, that little "taste" ended up being two giant pieces – I LOVED it and so did everyone else. The cake is moist and slightly dense, the cream cheese icing is light and fluffy, and the coconut adds a flavor and texture that just send this cake over the top. It was amazingly delicious. And best of all, I have finally made my peace with coconut.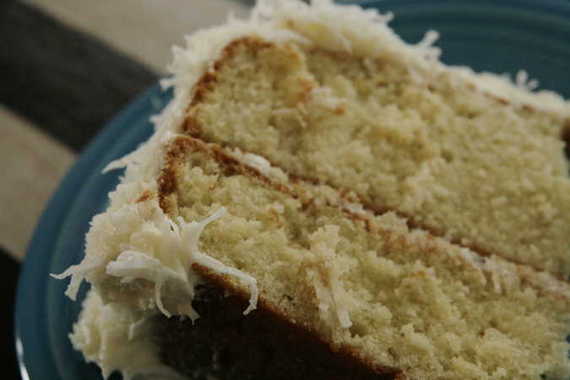 The only thing is, you might not want to make this cake all that often – it's pretty heavy on the fat. You might as well just hand out sticks of butter to your guests, but still – once or twice a year never hurts. And even though I may develop a few extra dimples on my backside (what? Don't act like you don't have them…) just from those two slices of coconut cake – it was worth it. I'll just get one of those grandma swim suits with the extra long skirt. Nothing could separate me from this cake…not now that we've come to love each other so.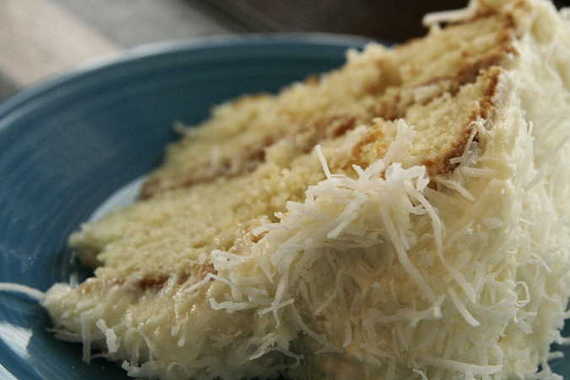 I think this cake would be perfect for a 4th of July party or your grandma's birthday, or a Tuesday night…it's just perfect, really. So what are you waiting for? Get out there, put your grandma swim suit on and have a big 'ol slice of coconut cake!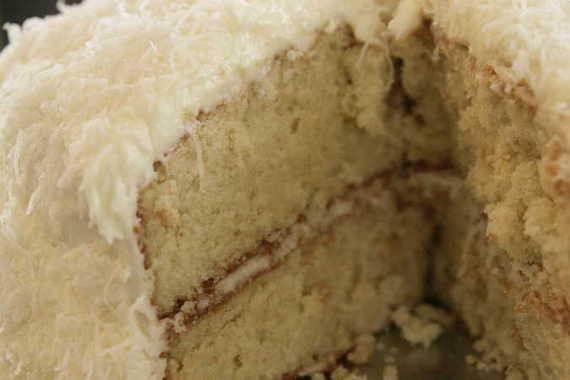 Coconut Cake
-Ina Garten, Barefoot Contessa
For the Cake:
3/4 pound (3 sticks) unsalted butter, at room temperature, plus more for greasing the pans
2 cups sugar
5 extra-large eggs, at room temperature
1 1/2 teaspoons pure vanilla extract
1 1/2 teaspoons pure almond extract
3 cups all-purpose flour, plus more for dusting the pans
1 teaspoon baking powder
1/2 teaspoon baking soda
1/2 teaspoon kosher salt
1 cup milk
4 ounces sweetened shredded coconut
For the frosting:
1 pound cream cheese, at room temperature
1/2 pound (2 sticks) unsalted butter, at room temperature
3/4 teaspoon pure vanilla extract
1/4 teaspoon pure almond extract
1 pound confectioners' sugar, sifted
6 ounces sweetened shredded coconut
Preheat the oven to 350 degrees F. Grease 2 (9-inch) round cake pans, then line them parchment paper. Grease them again and dust lightly with flour.
In the bowl of an electric mixer fitted with a paddle attachment, cream the butter and sugar on medium-high speed for 3 to 5 minutes, until light yellow and fluffy. Crack the eggs into a small bowl. With the mixer on medium speed, add the eggs 1 at a time, scraping down the bowl once during mixing. Add the vanilla and almond extracts and mix well. The mixture might look curdled; don't be concerned.
In a separate bowl, sift together the flour, baking powder, baking soda and salt. With the mixer on low speed, alternately add the dry ingredients and the milk to the batter in 3 parts, beginning and ending with dry ingredients. Mix until just combined. Fold in the 4 ounces of coconut with a rubber spatula.
Pour the batter evenly into the 2 pans and smooth the top with a knife. Bake in the center of the oven for 45 to 55 minutes, until the tops are browned and a cake tester comes out clean. Cool on a baking rack for 30 minutes, then turn the cakes out onto a baking rack to finish cooling.
For the frosting, in the bowl of an electric mixer fitted with a paddle attachment, combine the cream cheese, butter, vanilla and almond extract on low speed. Add the confectioners' sugar and mix until just smooth (don't whip!).
To assemble, place 1 layer on a flat serving plate, top side down, and spread with frosting. Place the second layer on top, top side up, and frost the top and sides. To decorate the cake, sprinkle the top with coconut and lightly press more coconut onto the sides. Serve at room temperature.