Ooops. Yeah, I know – today is Tuesday and there is no TWD entry. No mouth-watering recipes from our beloved Dorie. No commentary with me falling all over myself trying to put into words how deep my love is for a certain dessert. Yeah none of that. I just didn't get around to making the recipe this week. I know, I know – how very irresponsible of me. BUT – I did make this cake. A good ol' chocolate bundt cake. Nothing fancy, or complicated – just tasty.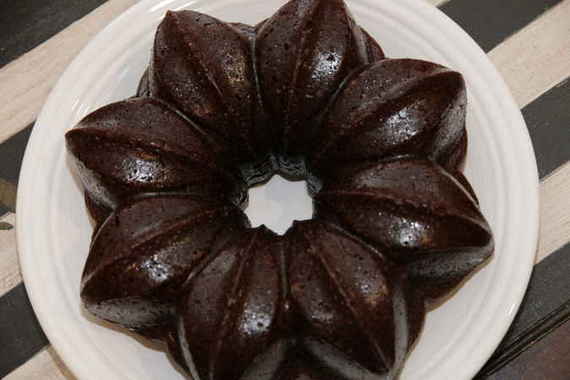 I got the recipe from Laure of Vintage Victuals the other day when I was searching for a good bundt cake recipe. I just bought a pretty new bundt pan – you know, one of those wobbly silicon ones, and wanted to put it to immediate use. This cake is chocolatey with a hint of cinnamon (which I love!), and really nice and moist. Although it's mighty tasty eaten as is, I think it would be excellent with a glob of gooey chocolate frosting on top.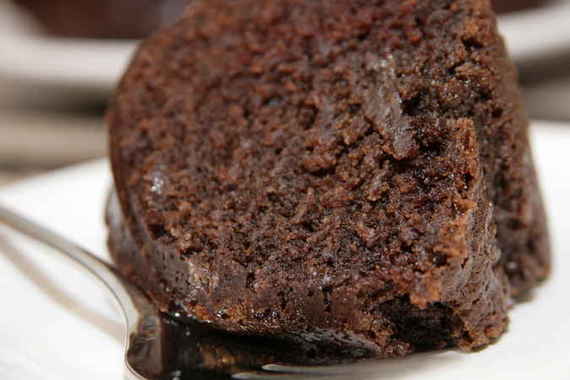 Thanks to Laure for sharing her family's recipe with me!
Cinnamon Chocolate Cake
-Vintage Victuals
1/2 cup butter
1 cup water
1/2 cup vegetable oil
5 tablespoons cocoa powder
2 cups flour
2 cups sugar
1/2 teaspoon salt
1/2 cup buttermilk
1 teaspoon baking soda
2 eggs, lightly beaten
1 1/2 teaspoons cinnamon
1 teaspoon pure vanilla extract
Preheat the oven to 375 degrees. Grease a large bundt pan with cooking spray. Put butter, water, oil, and cocoa in a medium saucepan. Bring to a boil.
Meanwhile, whisk together flour, sugar, and salt in a mixing bowl. Pour the chocolate mixture into the bowl with the dry ingredients and mix well. Then, add the buttermilk and baking soda. Mix together the eggs, cinnamon, and vanilla in a small bowl, and add to the batter. Pour batter into prepared pan.
Bake 25 minutes. Allow cake to cool completely in the pan.