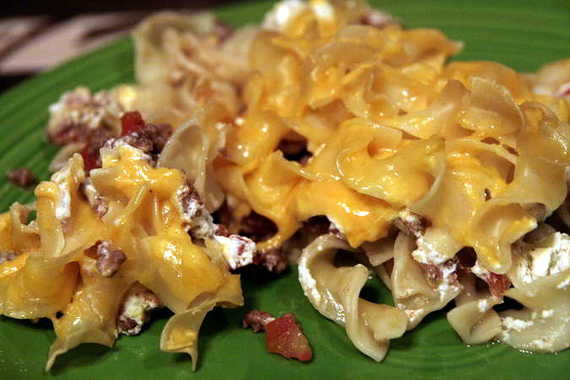 This is one of our favorite easy weeknight meals – I don't make it that often, but it's always so tasty and comforting when I do! You remember how I've told you I didn't really know how to cook when I was first married, right? Well, this casserole was the first homemade meal I ever made for hubby after we got married – I didn't read the directions closely enough, which resulted in a slightly "crunchy" texture (ok not so slight…more like, "woah, why the heck are these noodles so freaking CRUNCHY?"), because I didn't boil the noodles before putting them in the dish. Niiiiiiice, Amy.  And the funny thing is, it took me forever to realize that I had even made the mistake – all this time I had been thinking it was a typ-o or something in the recipe! HA! So I have a little note written in my recipe book saying, "it might be a good idea to put all the noodles on the bottom – otherwise they're kind of crunchy…" Hahahahaha!! So, after giving it a second chance – this turned out to be one of our favorites and now it brings back all kinds of ooey gooey nostalgia when I make it. Joel likes to make fun of me, actually….
You can make all kinds of variations with this recipe – turkey instead of beef, different kinds of pasta, you can add other kinds of vegetables – peas might be good! Lots of things! And as usual, it's super easy to make. I made it for my mom when she was visiting once, and now she makes it all the time! Give it a try – the sour cream might sound weird to you, but trust me, it's goo-ooooood!
Easy Weeknight Casserole
-Gooseberry Patch "Best-Ever Casseroles"
1-1/2 pounds lean, ground beef (I like to use turkey a lot, too)
14-1/2 oz. can diced tomatoes
1 teaspoon salt
1 tablespoon sugar
1-1/2 cups sour cream (I always use low-fat)
3 oz. package cream cheese, softened
1/4 cup onion, chopped (I leave this out and just use onion powder)
8 oz. package medium egg noodles C-O-O-K-E-D. Did you get that?- COOKED!
1-1/2 cups shredded cheddar cheese
Brown beef in a large skillet over medium heat; drain. Add tomatoes, salt and sugar; reduce to low heat and simmer for 15 minutes. Set aside. Combine sour cream, cream cheese and onion in a bowl; mix well and set aside. Place half of the (COOKED) noodles in a lightly greased 13×9 baking dish; top with meat mixture, then sour cream mixture. Layer remaining (COOKED) noodles over top; sprinkle with cheese and bake at 350 for 25 minutes. Serves 6. Enjoy!