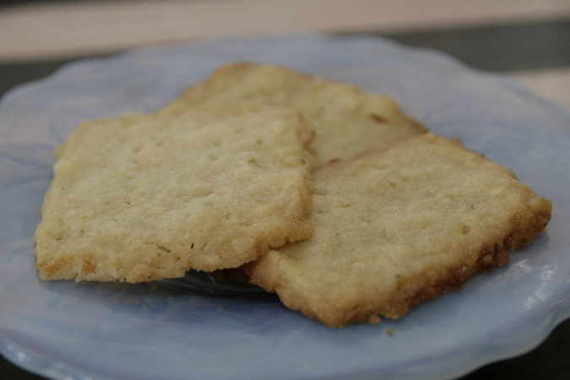 I know I didn't come up with a dorky play-on-words title this time – it's kind of hard to do that with some recipes. I mean, can you think of anything cutesy and catchy for coconut butter thins??? I really can't…plus, it's been one heck of a week and to be perfectly honest, I'm tired of thinking. So if it's alright with you, I'll just go with the obvious, no-thinking-required post title. Thank you.
This week, Jayne of The Barefoot Kitchen Witch chose Coconut Butter Thins. These are a really thin, crunchy, almost lacy-like cookie with bits of coconut and macadamia nuts and a little lime zest. The recipe also calls for a pinch of Coriander, but I decided to walk on the wild side and try a little curry powder in mine – very odd, yes, but it worked!  Mine were also pretty salty (which I LOVED) because I used coarse sea salt- yum! These go into the oven as perfect little shortbread-looking squares, but they spread a little during baking, and come out more flattened and crisp. A nice surprise! You can really taste the lime zest, and surprisingly, you sort of forget that coconut is even in there! I couldn't even taste it! I think these would be great as a late night snack with a cup of hot tea – they're so dainty and crisp.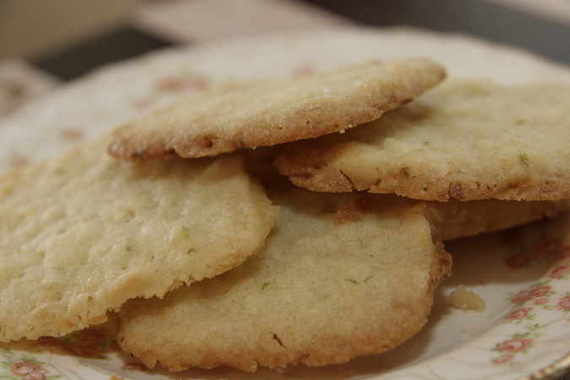 If you would like the recipe, head over to Jayne's blog . And BE SURE to check my blog out next Tuesday because it's MY TURN to pick the TWD recipe!!!  I'm so stinking excited! Banana Cream Pie chosen by yours truly comin' your way next week!!! Don't miss it!