I had heard of this dip about a thousand times – originally called Buffalo Chicken Dip, it's been nicknamed "crack dip" because its supposedly quite addicting. I thought, "hmm, anything with that title must be good!", and then I read the ingredient list – canned chicken, buffalo sauce, blue cheese, ranch dressing….? BLECH! I'm sorry but that does NOT sound like something I would want to put in my mouth. So I never made it. I mean, I have to draw the line somewhere, right? It wasn't until I was perusing some of my favorite food blogs looking for Super Bowl recipes that I found this recipe, once again. The guys over at The Bitten Word were raving about this dip – and that got me curious, I mean, if those guys like it then surely I could give it a try. So I did, and I took it to the Super Bowl party. As it turns out, this dip really is like crack…I could sit there and eat it all day! Hubby and I are both big blue cheese fans, so of course we loved it – but here's a little warning for those of you who are picky eaters (ahem, my sister) – if you don't like buffalo sauce and/or blue cheese, this dip isn't for you.  And even if you don't like those things, still give it a try – you might be pleasantly surprised. Everybody at the party loved it! So without further ado – CRACK DIP!!!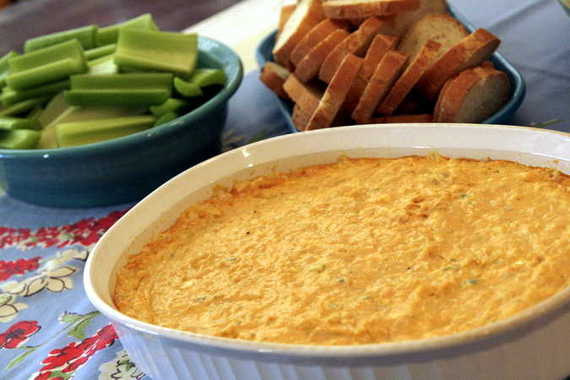 Buffalo Chicken Dip (AKA: Crack Dip)
8 ounce package of cream cheese, softened
1/4 cup ranch salad dressing
1/4 cup blue cheese salad dressing
1/2 cup buffalo sauce or buffalo style barbecue sauce
1/2 cup crumbled blue cheese (shredded mozzarella cheese can be substituted)
2 boneless, skinless chicken breasts, cooked and shredded

Pre-heat oven to 350 degrees F. In a deep baking dish, mix cream cheese, salad dressing, buffalo sauce, and cheese. Stir until combined. Stir in chicken.
Bake uncovered for 20-25 minutes, until the dish is heated through.  Serve with crackers, pita chips, sliced bread or vegetables.
NOTE:  Depending on your tastes and the ingredients on hand, you can use 1/2 cup ranch or blue cheese salad dressing rather than 1/4 cup of each.  Similarly, you can mix blue cheese and mozzarella, or use portions of each.
*I used sliced baguettes and celery for dipping…mmm, MMMM!
Recipe source: The Bitten Word, originally from Frank's Red Hot