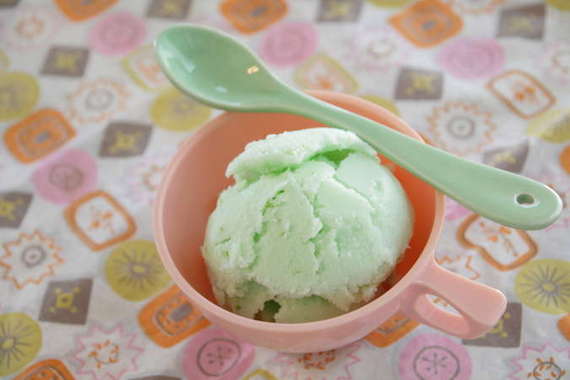 Mmm, lime sherbet…everybody loves it; it's pretty, it's refreshing, it's delicious. But I never ate it as a kid; for years I thought I wasn't allowed. How silly is that? It started when I was a little girl (I don't know how old – probably somewhere around 6-8ish) and my grandmother (Nana), my sister and I were at our favorite ice cream shop. I was eyeing the pretty, bright green lime sherbet – it looked so good! I really wanted a big scoop, unfortunately, I had on a brand new dress, and Nana knew I'd end up with bright green sherbet all over it. So, she urged me to pick another flavor of ice cream instead. For whatever reason, since then, I always thought there was something wrong with the lime sherbet and that I shouldn't eat it (I was a very gullable child…). It took years before I even tried it! Finally, once I did, I loved it! So tart and creamy!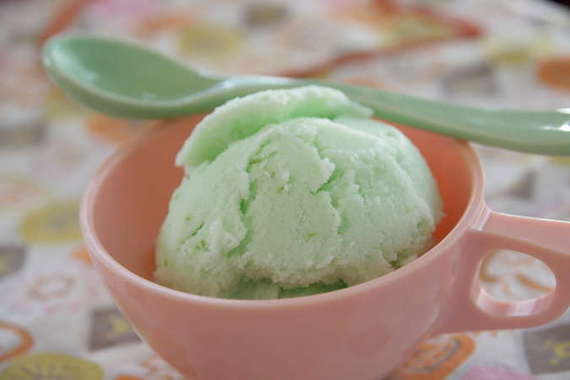 So, the other day, I found myself with a few leftover limes and decided lime sherbet would be the perfect way to use them up! I used David Lebovitz's recipe for Lemon Sherbet, using limes instead, and it turned out great! I'm really enjoying his book, The Perfect Scoop – it's so great to have in the summertime! In case you're wondering why my sherbet is green, I added a few drops of green food coloring, just so it would look like the pretty lime sherbet I saw in the ice cream shop that time! I love the color!!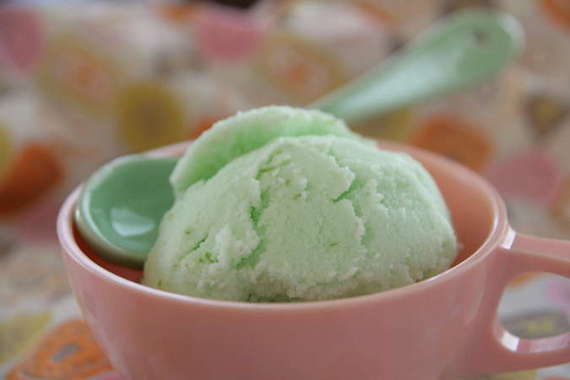 Lime Sherbet
-David Lebovitz – The Perfect Scoop
3 cups whole milk
3/4 cup sugar
1 lime, preferably unsprayed
6 tablespoons freshly squeezed lime juice (from 2 to 3 limes)
In a medium, nonreactive saucepan, mix 1 cup of the milk with the sugar. Grate the zest of the lime directly into the saucepan. Heat, stirring frequently, until the sugar is dissolved. Remove from the heat and add the remaining 2 cups milk, then chill thoroughly in the refrigerator.
Stir the lime juice into the milk mixture. If it curdles a bit, whisk it vigorously to make it smooth again. Freeze in your ice cream maker according to the manufacturer's instructions. Makes about 1 quart (1 liter).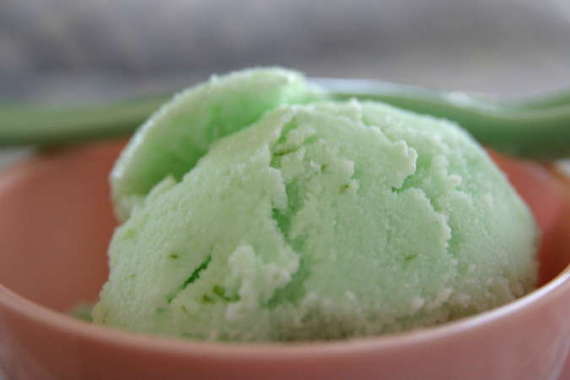 This was so refreshing and delicious. And loved that it's so much lighter than ice cream, so I feel a little less guilty eating it. A perfect summer treat!