"…raindrops on roses and whiskers on kittens, bright copper kettles and really freaking good spaghetti sauce…" What? It works….
For years now (seriously) I've been searching for a meat sauce made with brown sugar. I know it might sound strange, but its good! When I was in college, one of my friends' roomates made us all spaghetti; and the homemade meat sauce she served over it was sort of sweet. Very memorable, to say the least. So I've been trying to find a similar recipe since then – all to no avail. Until now – yippee!!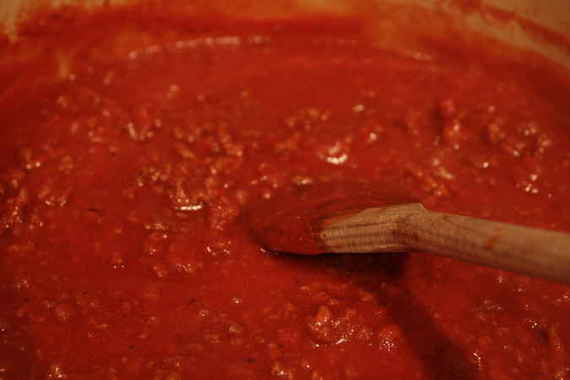 I was telling my mom about this the other day and she remembered that she had an old recipe for a slightly sweet spaghetti sauce. When she read it off to me I wasn't totally convinced, but decided to give it a try anyway. Well thank goodness I did, because I have now found my new favorite spaghetti sauce!!! I can finally stop buying the cheap canned kind and adding extra spices to make it semi-decent…I now have my very own go-to meat sauce recipe…Hallelujah! And the great thing is, it makes a ton, so you can freeze half of it for another time – perfect. Now I know this recipe is less than authentic (I'm sure Italians would most definitely turn their noses up at this sauce) – it doesn't have carrots, celery, onion or anything like that  – but I figure since I'm a tacky American anyway, I might as well make tacky Americanized spaghetti sauce, eh? Enjoy –
Amy's New Favorite Spaghetti Sauce
2 lbs. ground beef
2 teaspoons garlic powder (or you could chop your own if you really want to)
2 teaspoons brown sugar (mine were more like heaping teaspoons)
1 teaspoon dried oregano (I also added a little dried basil)
1 teaspoon cayenne pepper
1 teaspoon black pepper
salt to taste
1 small can tomato paste
2 cans water (this is using the little tomato paste can)
2 cans tomato soup
1 can tomato sauce
In a large stockpot or dutch oven, brown meat and drain grease. Add all other ingredients, mixing well. Bring to a boil, then reduce heat to low and simmer for 3 hours. Enjoy! I know I certainly did!