Exactly one year ago today, we brought home our sweet little Cairn Terrier/Schnauzer, Izzy. I can't believe an entire year has passed (time flies when you're trying your best to keep up with a hyperactive dog and loving every minute of it!)- we have all had such an amazing year!
Goodness knows it hasn't exactly been the easiest year – there have been many times I've been ready to pull my hair out- including the time she went outside in the rain, got her paws insanely muddy, and as soon as I opened the door, decided dart all over my living room and jump on every single couch cushion and up every single stair; or the time she snatched the Mozart Chocolates I was planning to mail to Jennifer from off our dining room table, dragged them all the way into the living room and ate all but 3 of them – luckily, she was ok ($400 and an overnight hospital stay later…); what can I say, apparently my girl loves chocolate… 😉 Sure, we've had some…ahem, interesting times, but we wouldn't trade a single second of it!
In honor of our little Izzy-Bear's One Year "Adoptiversary", I made her favorite treat – frozen yogurt bites with bananas. This dog looooves bananas! I can't peel one without her running into the kitchen to beg for a taste – I almost always end up sharing my banana with her. So what better treat to make for her than these?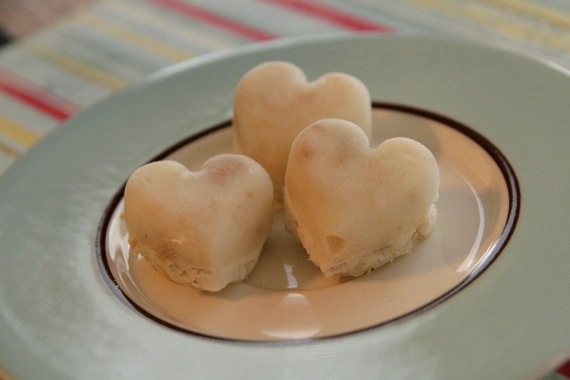 Izzy's Frozen Yogurt Bites
1/2 cup plain, non-fat yogurt
1 banana
2 or 3 crushed all-natural dog biscuits
In a small bowl, mash the banana, then add in the yogurt and crushed dog biscuits. Mix well and spoon into ice cube trays. Freeze for 3-6 hours, or overnight. Serve when frozen – great for summer!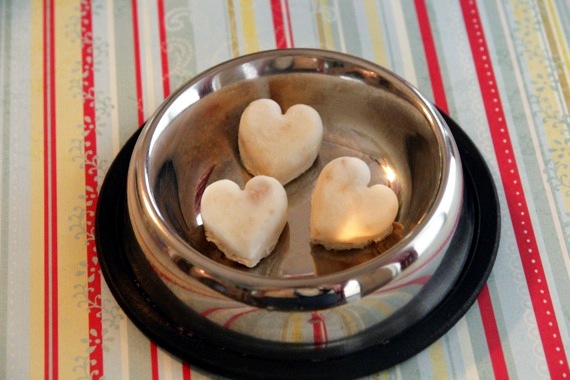 For those of you who plan on someday getting a dog – let me just take a second to highly recommend adopting. There is no way to even begin to describe the joy that comes along with saving a dog's life. It's such a wonderful, fulfilling feeling, knowing that you've given a sweet dog a loving home. There are millions and millions of homeless dogs out there who need someone to take care of them and love them. So before you go out and spend a fortune on a brand new puppy, please consider adopting – I promise you'll be so very glad you did – and the dog who's life you just saved will too. Who knows, you may just end up with a little sweetheart like Izzy!