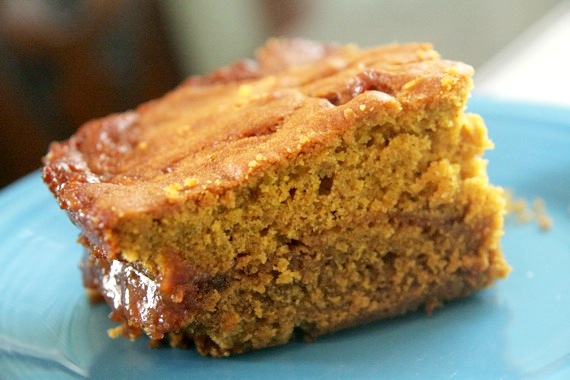 WHEW! Boy, has it been a long week! Sorry I've waited so long to post something new…this was the first week of voice lessons at the high school and it's been just a wee bit busy lately.  I've been dealing with schedules and All-State audition music and emailing parents. BUT, regardless of being super go, go, go all the time- it's been a great week and I'm excited to be starting another great school year. Also, the weather has been almost bearable lately – we've actually gotten some rain and cool breezes (woah!). I put a little pumpkin pie spice in my coffee and burned a cinnamon-pumpkin candle last night and it ALMOST felt like Fall! How about that?! 🙂 Yesterday, I was lucky enough to find canned pumpkin at the grocery store, so naturally, I stocked up. As soon as I got home, I made these blondies. Sheer deliciousness. Every year I forget how much I adore Fall-flavored baked goods. Anyway, remember these salted caramel brownies? That's where I got the idea for these pumpkin blondies. I've made regular pumpkin blondies before, but I thought adding a layer of salted caramel would be extra special! I have to admit, I'm patting myself on the back a little bit after tasting these….it's pretty hard to beat pumpkin blondies stuffed with gooey salted caramel. Hello Fall, I love you.
Salted Caramel Pumpkin Blondies
1/2 – 3/4 cup caramel sauce, however much you want, really (homemade is great, but store-bought is just fine too)
2 cups all-purpose flour
1 tablespoon. pumpkin pie spice
1 teaspoon baking soda
1 teaspoon salt, divided
2 sticks (16 tablespoons) unsalted butter, at room temperature
1 1/4 cups brown sugar
1 large egg
2 teaspoons vanilla extract
1 cup pumpkin puree
Preheat the oven to 350° F.  Butter a 9×9-inch baking dish.  In a medium bowl, combine the flour, pumpkin pie spice, baking soda and 1/2 teaspoon of the salt.  Stir together and set aside.
In the bowl of an electric mixer fitted with the paddle attachment, beat together the butter and sugar on medium-high speed until light and fluffy, about 2 minutes.  Beat in the egg and vanilla until well combined.  Mix in the pumpkin puree.  With the mixer on low speed add the dry ingredients and mix just until incorporated.
Pour half of the batter in the prepared pan and smooth out evenly. Bake for 10 minutes. Remove from oven and drizzle the caramel in an even layer and sprinkle with the other 1/2 teaspoon of salt (feel free to leave the salt out if you're not a fan of salted caramel). Carefully drop spoonfuls of the remaining batter over the caramel and smooth out as best you can (it doesn't have to be perfect). Return to oven and bake for an additional 30 minutes, or until a toothpick comes out clean and the top is golden brown.
Let cool for at least 15 minutes before serving. Makes around 9 squares.
-recipe for basic pumpkin blondies from Annie's Eats