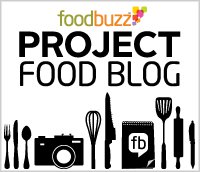 Sorry about the 'Yee Haw' in the title….I get a little excited sometimes and the Texan in me really comes out. Yeah, so WOW, I was lucky enough to advance to Round 2 of Project Food Blog!!! But only thanks to YOU. If it hadn't been for your support, encouraging comments and votes, I totally wouldn't even be here! So THANK YOU from the bottom of my heart!
In this round of Project Food Blog, our mission is to cook outside of our comfort zones and recreate a classic dish from another culture. The kicker? It can't be French or Italian. They wouldn't want to make it too easy on us, now would they? 😉 I knew this would be a challenging order, because when you get right down to it…..I'm boring. There, I said it. The majority of my food is American, Mexican, Italian and Cajun, with the occasional Greek thrown in to annoy my mother, who hates Greek food. In all honesty, it's not often that I step outside of my comfort zone at all. I'm a "play-it-safe" kind of girl. But not anymore. Today I turn over a new leaf. I kick the old, "boring" Amy to the curb and let the new, adventurous, perhaps even slightly dangerous Amy in the kitchen. Who knows what that Amy will come up with! She's pretty awesome. My husband digs her.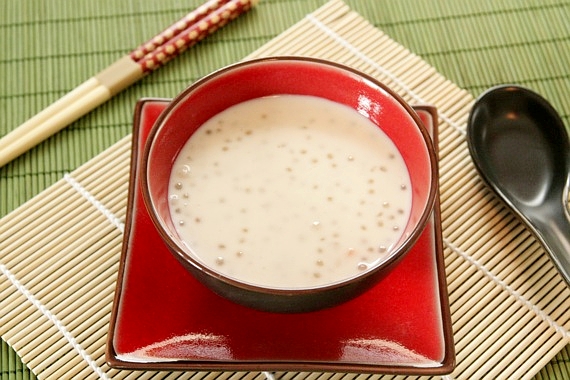 So, after lots of careful thought (I went down the Indian, Israeli, Greek and  Moroccan paths, but ultimately, was left cold), I decided to do a Tong Sui (translation: 'sweet water'), a delicious Cantonese dessert soup (sounds good, right? Well it is…trust me!). To be honest with you, the only "Asian" food I've ever made is Kung Pao Chicken…………….*cricket*, *cricket*…………….I know. I'm ashamed. Everyone knows that doesn't count. So I thought, "what better culture to choose from?!" I was first introduced to this yummy, sweet soup 4 years ago at our friend Billy Wu's house. Every year, he hosts a huge BBQ that my husband fondly refers to as "The WuBQ" (and looks forward to year round). There's a plethora of every food imaginable, and I was lucky enough to sample a dish that would intrigue me for years to come. Billy's mother is a wonderful cook and loves sharing her Chinese culture with everyone (she once convinced my poor husband to try a smoothie made with Durian, the funkiest, smelliest fruit known to man). She opened the lid to a large pot filled with a rich, coconuty soup and invited me to try a bowl. "Why not?", I thought – it smelled good enough. One bite and I was hooked. It was sweet, creamy, slightly thick and filled with rich coconut milk, tapioca pearls and taro. I went home that night thinking about the soup. I've thought about it ever since.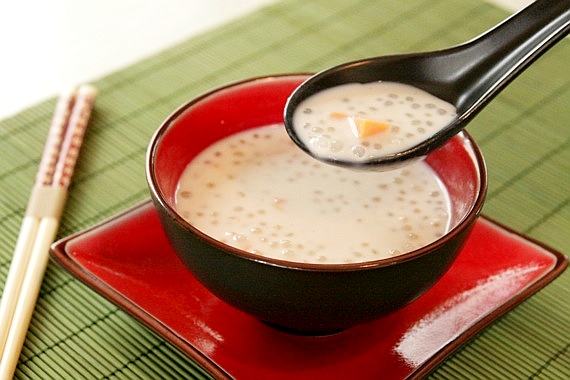 Upon doing some research, I found out that Tong Sui is Asian comfort food. Like our chocolate pudding or macaroni and cheese, a nice big bowl of this is like a big, warm hug. Very common. Billy's mom makes it all the time and his whole family loves it. I love it too. Which is why I'm diving in head-first and making my very own traditional Tong Sui! Billy's mom was sweet enough to give me her own personal recipe and I'm honored to be able to recreate it here!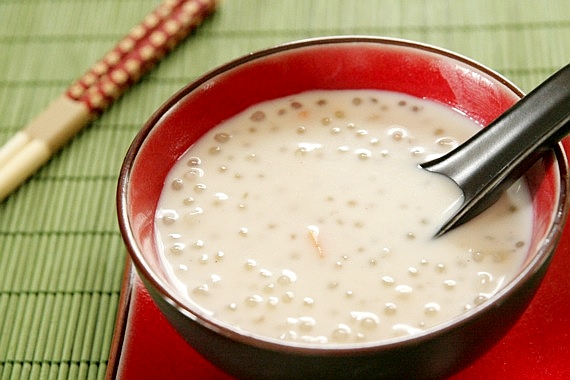 Tong Sui (Cantonese dessert soup)
-makes a large pot; enough for 6-8 people
**Kam Kwai gave me her list of ingredients and her method of cooking. Just like so many of my grandmother's recipes, measurements are just approximations- you can add as much or as little of everything as you want.
3 cups water, plus more for boiling the tapioca and barley
approximately 3/4 cup small tapioca pearls
1/2 cup pearl barley
1 small sweet potato, peeled and diced into centimeter-sized cubes (Kam Kwai uses Taro- similar in texture to sweet potato- but the ones at the Asian market were big, long and furry and frankly, they scared me a bit so I used sweet potatoes)
1 12-oz. can coconut milk
1 12-oz. can evaporated milk
1/2 – 1 cup sugar (this isn't meant to be too sweet, but if you prefer it sweeter, feel free to use the full cup of sugar)
1 teaspoon salt
pinch ginger
pinch cinnamon
1 teaspoon vanilla extract
*the cinnamon and vanilla isn't traditional, but I wanted to put my own spin on it
In a medium pot over high heat, bring 1 1/2 cups water and pearl barley to a boil. Reduce heat to low and cook covered for 40-45 minutes, until the barley is tender.
In a separate pot, bring another 2 cups water to a boil. Add in the tapioca pearls and cook for 10-12 minutes, until clear and cooked through.
In a large stock pot, bring the 3 cups water and diced sweet potato to a boil. Cook for 10 minutes until the sweet potato is tender. Stir in the cooked barley, coconut milk, evaporated milk, sugar, salt, cinnamon, ginger and vanilla. Lastly, stir in the tapioca. Taste for sweetness and add more sugar and spices as needed. Remove from heat. Serve and enjoy!
*Tong sui can be enjoyed warm or cold.
I had lots of fun making this soup- it's so different and unusual compared to the things I normally make. That's why I've enjoyed this challenge so much. Not only have I succeeded in cooking a delicious dish from a completely different culture, I made my first ever trip to the Asian market! Now THAT was an experience! I've discovered so many wonderful ingredients and ideas that I would have never even considered trying before. Like I said, that was the old, boring Amy! Who knows what I'll try next- Billy also gave me a great recipe for sweet dumplings to make for Chinese New Year! Bring it on! I'm a new woman!