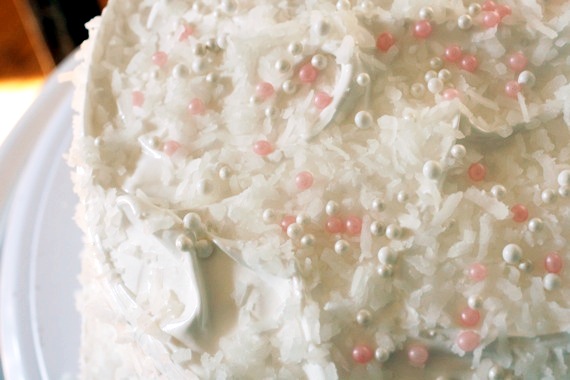 This is a very special, nostalgic cake for my family. It was my great-grandmother, Baba's favorite go-to cake recipe. The Lady Baltimore Cake. It's dainty, delicate, feminine and beautiful to look at. It starts with a light, tender white cake, filled with a delicate orange marmalade filling, spread with a fluffy marshmallowy frosting and sprinkled all over with sweetened coconut. Baba made this cake for special occasions, birthdays, holidays, etc. My mother's birthdays were made so special because Baba would always make her this cake. And finally, after years of being too scared to try it for myself, I made it for my mother's birthday last week. I love making something that Baba used to make- it's almost as if it transports me through time and I'm standing next to her in her kitchen, baking alongside her.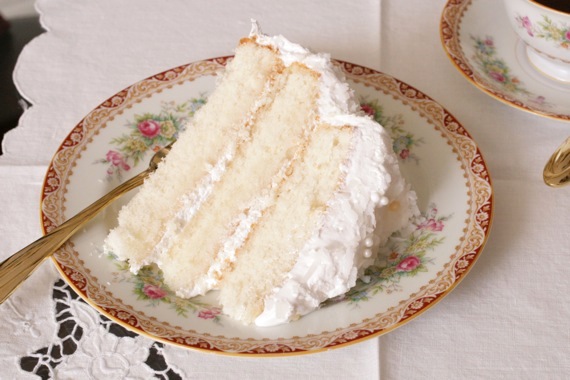 Food is so powerful. One taste can bring back old friends, memories, and family. Glancing at an old, hand-written recipe can bring back smells and emotions and feelings from your childhood. Eating at your mom's table, no matter your age, can make you feel safe and happy. Sharing a dessert with your husband can make you feel so loved and secure. And baking a cake from a book that your great-grandmother once used links you to something you can't quite explain. I was so happy to make this cake for my mother, because for one short moment, we both got to be with Baba again. This is a very special cake. One I hope to be making for years and years to come.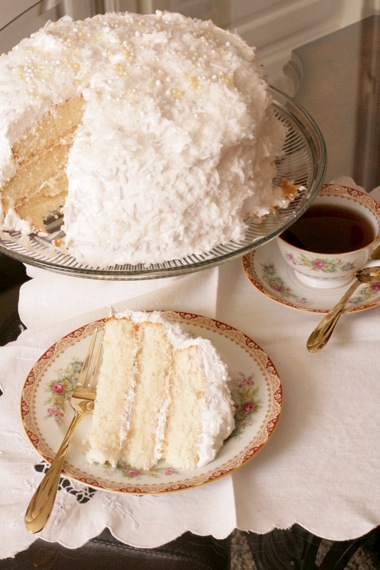 (That's Baba's china my mom let me use in the pictures- we thought it only fitting! Isn't it gorgeous?)
The cake portion of this recipe is very similar to Dorie Greenspan's Perfect Party Cake (my favorite white cake recipe), which is why it's so light and fluffy. However, I noticed something odd while reading over the frosting portion of the recipe; no butter. NO butter?! What?! But I trudged on, thinking to myself, "Baba used this recipe a ton, so it must be right!" Upon actually making it, I realized it's basically a marshmallow frosting. YUM! The frosting takes a little extra time and effort but in the end, it's worth every second. I couldn't get Joel to stop eating it! If you ever need an impressive cake for a special occasion, try the Lady Baltimore Cake- it's different from your run-of-the-mill white cakes and really looks beautiful on a cake stand. It would really be perfect for showers, actually.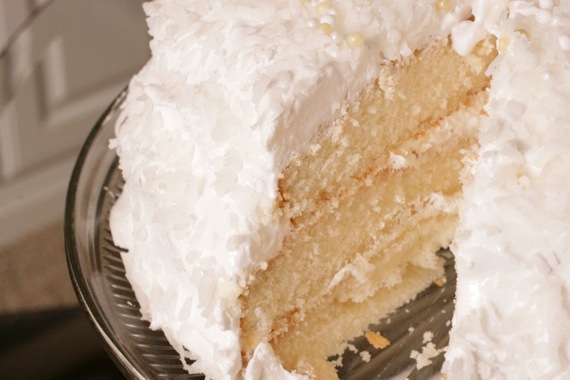 Lady Baltimore Cake
3/4 cup butter, at room temperature
2 cups sugar
grated zest of one lemon
3 cups cake flour
3 teaspoons baking powder
1/2 teaspoon salt
1/2 cup milk
1/2 cup water
1 1/2 teaspoons vanilla
6 egg whites
Preheat oven to 350 degrees and line 3 9-inch cake pans with parchment paper and grease generously.
Cream butter, sugar and lemon zest together until light and fluffy, about 2 minutes. Sift flour, baking powder and salt together and set aside.
Combine milk, water and vanilla. Add small amounts of flour mixture to creamed butter mixture, alternately with milk mixture, beating until smooth after each addition.
Beat egg whites until stiff and gently fold into batter. Pour into prepared pans and bake for 20-25 minutes, or until a toothpick inserted into the center comes out clean. The cakes shouldn't get very brown on top. Allow to cool for 10 minutes in the pans, then transfer cakes to wire wracks to cool completely.
For the Orange Marmalade Filling:
3/4 (18-ounce) jar orange marmalade
1 tablespoon fresh orange juice
1 tablespoon fresh lemon juice
1 teaspoon Grand Marnier (or any orange liqueur), optional
Heat the marmalade, orange juice and lemon juice in a small saucepan over medium heat just before it reaches boiling point. Remove from heat and stir in the Grand Marnier. Strain out the peels and allow to cool to room temperature.
For the Frosting:
3 cups sugar
1 cup water
1/4 teaspoon cream of tartar
3 egg whites
1 teaspoon vanilla
sweetened, flaked coconut, for garnish
Using a mixer, beat egg whites until stiff.
Boil sugar, water and cream of tartar in a small saucepan over medium-high heat until it reaches 238 degrees on a candy thermometer, or until a small amount of syrup will form a soft ball when dropped into very cold water (this is what's known as "soft ball stage").
With the mixer running, slowly pour the hot syrup over the egg whites and continue to beat until the mixture is of spreading consistency (this could take up to 10 minutes; don't be alarmed if your mixture is runny, just keep beating and eventually it will thicken up.). Add vanilla.
To Assemble:
Spread half of the orange marmalade filling in the center of the bottom cake layer, leaving an inch border around the outside (when you add the frosting, the marmalade will spread). Gently spread some of the frosting over the marmalade and place second cake layer on top. Repeat with the other half of the marmalade filling and more frosting, then place the third cake layer on top. Frost the whole cake with the frosting (be generous, the recipe makes a TON of frosting!) and sprinkle generously with coconut. Refrigerate until 30 minutes to one hour before serving.
Recipe source: adapted from Baba's favorite, The American Woman's Cookbook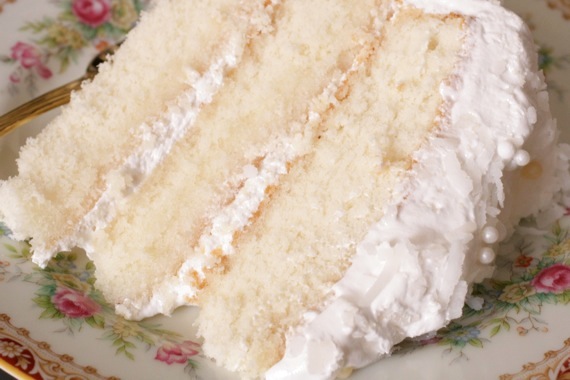 I hope this cake made your birthday extra-special, mommy! I love you!