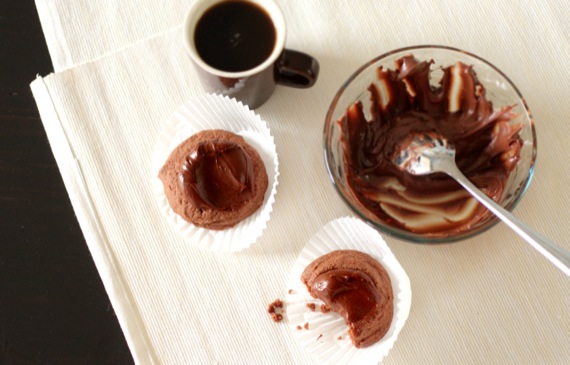 Can I just rant a little bit? Is that ok? We recently bought a new MacBook pro, since our old one was getting pretty ragged. The "genius" at the Apple store suggested a retina display; especially since I do so much photo editing. Ok, fine, sure. Retina display it is. Can I just ask- WHY WOULD ANYONE WANT THIS???? My pictures are blurry/pixel-y. My pictures that I work so hard to ensure are as close to perfect as I can get them. My food that I style so carefully and get placed just right. They. Are. Blurry. Not when they're giant, mind you. Just after I resize them to fit on my blog. So anyone else who owns a computer with retina display will see my pictures as blurry. What a load of you-know-what!
Do you see that photo above? I worked really hard on that photo. I was SO happy with that photo. Until I resized it and now it looks like doo-doo. Joel has explained it to me a floppity-gillion times, but I still can't wrap my tiny, technologically-challenged brain around it. In fact, he'll probably get annoyed with me after reading this post, and explain it to me all over again, but I'm MAD, people! I don't care how awesome retina display is- I hate it! Anything that makes my hard-earned photos blurry is NOT a good thing! So THERE! Suck it, Joel! Suck it, Michael! And suck it, anyone else who tries to tell me how great retina display is!
Phew. Ok, I feel so much better. Are you still with me? Am I down to my last 3 readers?? Don't worry, I'll talk about food now, I promise.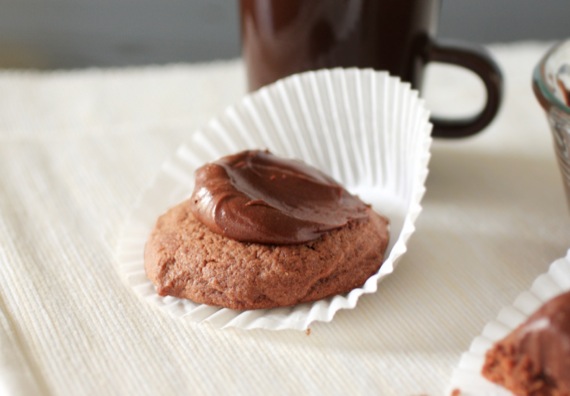 How about some soft, chewy, brownie-like cookies topped with a decadent, fudgy frosting? Sound good? Well, they are! They're awesome, in fact. I wanted to make a rich, chocolaty cookie the other night for a party and these popped into my head. I used two of my favorite components- the Levain Bakery's Giant Double Chocolate Cookies and Hershey's Perfect Chocolate Frosting. What a combo!!  Since I left the chocolate chunks out of the cookies, the texture and taste was more like a homemade brownie – dark, chewy, and fudgy. Smear a little of that awesome chocolate frosting on top and WOWEE, what a cookie!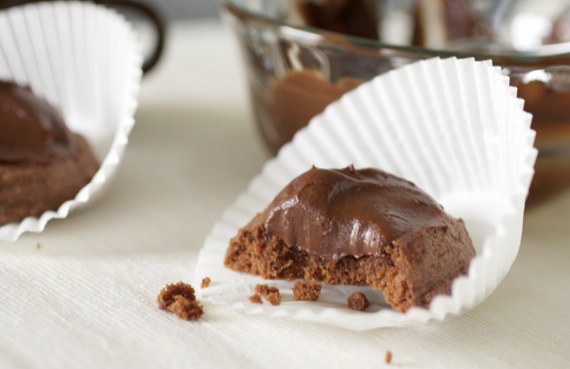 Needless to say, these were a big hit at the party. Luckily, there were some left over, so Joel and I could enjoy them over the next couple of days!
Brownie Thumbprints with Fudgy Chocolate Frosting
1 cup (2 sticks) cold, unsalted butter, cubed
1 1/4 cup sugar
2 large eggs
1/2 cup dark cocoa powder
2 1/4 cups all-purpose flour
1/4 teaspoon coarse salt
1 teaspoon baking powder
Preheat the oven to 350˚.  Line baking sheets with parchment paper or silicone baking mats.  In the bowl of an electric mixer, combine the butter and sugar.  Beat together on medium-high speed until light and fluffy, 2-3 minutes.  Blend in the eggs one at a time, scraping down the bowl as needed.  Mix in the cocoa powder until well blended.  Add the flour, salt and baking powder to the bowl and mix on low speed just until incorporated.  Transfer the dough to a work surface and knead briefly by hand to be sure the ingredients are well combined. Using a cookie scoop or small spoon, scoop out the dough and roll into 1 1/2 inch balls. Place on the cookie sheet and flatten slightly using the bottom of a glass or measuring cup. Bake for about 10 minutes. Remove from oven and gently press the back of a teaspoon into the top of each cookie to make an indentation (that's where the frosting will go). Cool completely.
For the Frosting**
1/4 cup (1/2 stick) butter, melted
1/3 cup HERSHEY'S Cocoa
1 1/2 cups powdered sugar
splash milk
1/2 teaspoon vanilla extract
Stir melted butter into cocoa. Add powdered sugar, then milk, beating to spreading consistency. Stir in vanilla. (Makes approximately 1 cup frosting)
Using a spoon, place a small dollop of frosting on each cooled cookie. Makes approximately 3 dozen cookies.
**feel free to double the frosting recipe if you prefer lots of frosting on your cookies. Keep in mind, however, these are very rich and don't need too much.
Recipe source: Sing For Your Supper original idea; cookie recipe from Levain Bakery; frosting recipe from Hershey's.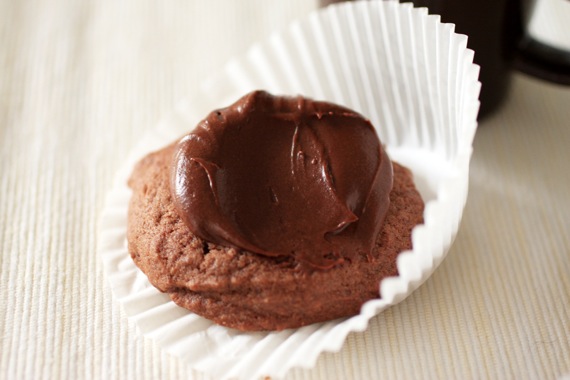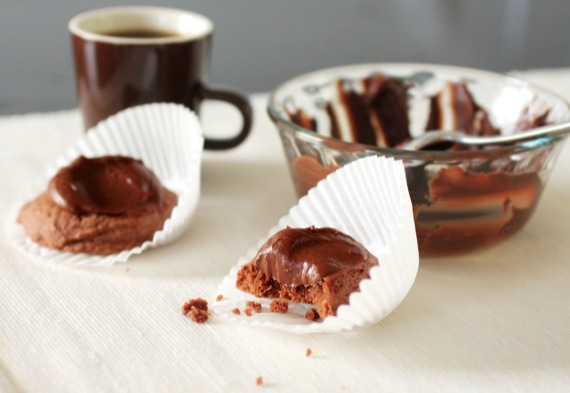 P.S. I must apologize for my outburst earlier. When I first wrote this post, there was a full moon occuring. Say what you will, but it just does something to me, y'all.  That same night, I lost my temper because my pen wasn't working. My pen, people. *sigh*