My old college roommate and close buddy, Courtney is working toward becoming a better cook. Now that we're both in the real world and not living in our tiny college apartment anymore, our alternating dinners of mac-n-cheese and spaghetti just won't cut it anymore. (I'm doing my best to move past these habits, too!) I told Courtney I would help her think of some quick and easy recipes to get her started, and so far she's been making some pretty good stuff – I made this fish just for her.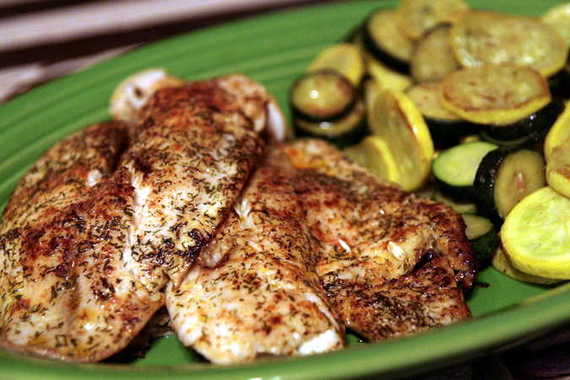 Super Easy Tilapia
*serves 1 – 2
2 tilapia fillets
Salt
Pepper
Paprika
Dill
Fresh lemon juice
Cayenne pepper (just a pinch; optional)
Extra virgin olive oil
Heat 1 or 2 tablespoons olive oil in a pan over medium heat; season fish with salt, pepper, paprika, dill, lemon juice and cayenne pepper to taste. Place fish in pan and cook for about 3 minutes on each side or until inside of fish is cooked through and "flaky".
Serve with grilled or sauteed zucchini and squash (I just slice them thin, season with salt and pepper, and saute them in a litte olive oil in a skillet for about 7 – 10 minutes or until tender).
So here's a winner for you, Courtney – give this a try this week; I promise you'll love it!