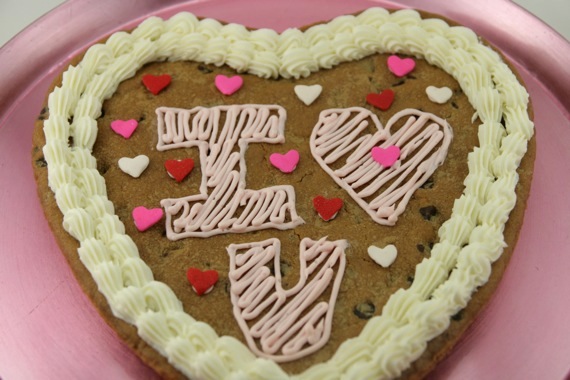 Aaaand, we're up and running again. Sheesh! What a long couple of days it's been – our hosting service (WebHost4Life – don't use them unless you want all KINDS of trouble…along with workers who don't give a crap about helping you) changed platforms or something and it screwed everything up. Thank goodness for my sweet, selfless hubby, who has spent every bit of his weekend fixing it for me! On top of that, I got beautiful pink tulips delivered to me and a set of Crate & Barrell juice glasses! What a sweetheart! To thank him for such hard work and such wonderful gifts, I made him one of his favorite things on earth – a giant cookie cake. I used to make them for him in high school before our band contests (yes, we were both "band nerds") and he always loved them! Of course, he loved this one – I made sure to use plenty of frosting and giant sprinkles. Just a small token of my love. 😉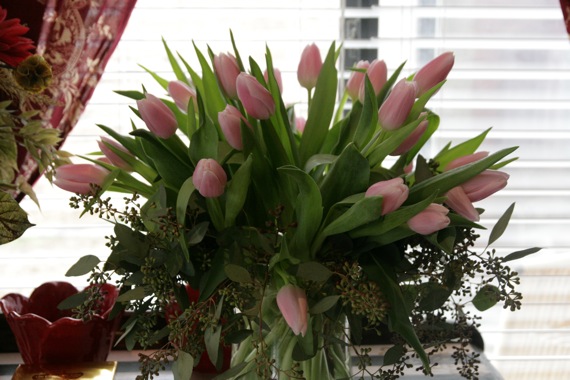 There's nothing to making a giant cookie cake…all you need is a round (or in my case, heart shaped) pan, some cookie dough (homemade or store-bought) and a little vanilla frosting. Just press the cookie dough into the pan, bake and decorate. Voila! Cookie cake and happy husband!
I'm really sorry my blog was out of commission for so long…hopefully now that we have a new web hosting service, this problem won't happen again. I hope you all enjoy a wonderful, romantic evening! The hubby and I are about to enjoy cheese and chocolate fondues with lots of champagne! HAPPY VALENTINE'S DAY!!!