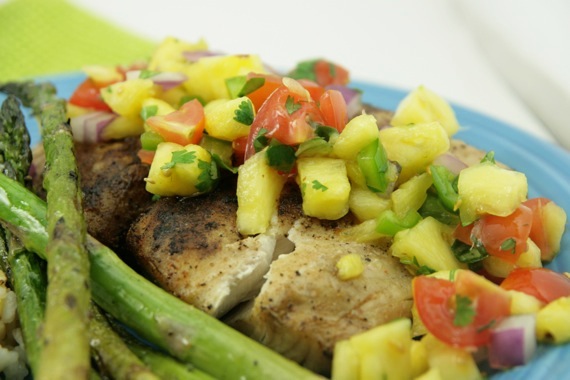 **This post is going to be pretty short and sweet- I have an opera rehearsal soon and this ridiculously hard music isn't going to memorize itself!!
The other night I decided to be brave and figure out how to cut a fresh pineapple. Can you believe that I had never sliced a pineapple?? They're just so darn intimidating- all those spikes and scary looking leaf things… But, honestly it's not hard at all! I couldn't believe just how simple it was! So with my new-found pineapple cutting skills, I decided to make a fresh pineapple salsa to go on top of grilled fish. YUUUUMMM! So hubby grilled up some Mahi-Mahi and asparagus and I made some pineapple-almond rice and it turned out to be a pretty great meal! However, I love fresh pineapple so much, I ended up eating so much of it that my poor tongue went raw and swelled up! Eeek! So be careful not to eat too much of the stuff…no matter how delicious it is! You don't want to sthtart thalking like thith. Not fun. Or attractive. Just ask my husband. 😉
Fresh Pineapple Salsa
1 cup fresh pineapple, cut into small chunks
1/2 cup cherry tomatoes, cut into small chunks (measure after chopping)
1/4 cup chopped red onion
1 small jalapeno pepper, seeded and diced
handful chopped fresh cilantro
juice of 2 limes
1/2 teaspoon salt
Mix all ingredients in a bowl, taste for seasoning and chill for at least 1 hour. Serve over grilled fish, pork chops or chicken. Serves 2.