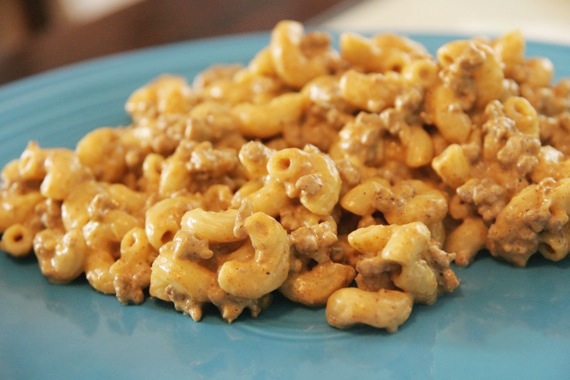 I need to come clean about something. A dirty little secret. Please don't judge me…..I, Amy-the-food-blogger, like Hamburger Helper. (GASP!) Yep, it's true. We both do, actually- of course, I would expect hubby to- I think HH was pretty regular in his house growing up. My mom hates it though, and never bought it when we were kids. Maybe once in a blue moon if I begged for it (which, I don't really think I ever did)- so I didn't really develop a fondness for it until college, where my roommate Courtney and I ate it quite often. Every now and then I'll buy a box and make it for dinner – you gotta admit it IS pretty quick and easy when you're in a pinch! However, recently, a fellow food blogger (and all-around awesome gal!) Ashley, of Delish posted her recipe for Creamy Taco Mac- pretty much exactly like Hamburger Helper, except much better for you (and just as quick and easy!)! I made it immediately and we both loved it! Hubby especially thought it was great (woo hoo!). I'll never need to buy the boxed stuff again! Thanks, Ashley!
Creamy Taco Mac
– adapted from Delish
1 lb. lean, ground beef
8 oz dry pasta + 1 cup reserved pasta water
1 can (14.5 oz) petite diced tomatoes
4 Tbsp mild taco seasoning (one packet)
3 oz cream cheese
1 cup sour cream
salt & pepper
cheddar cheese
Bring a large pot of salted water to boil and cook pasta per directions. Reserve one cup of pasta water.
Over medium heat, brown ground beef and drain off fat. Add taco seasoning and diced tomatoes. Allow to simmer over low heat for 5 minutes. Add cooked pasta, reserved water, cream cheese and sour cream. Give it a good stir until cheese is melted and incorporated.  Simmer over low heat for 2-3 minutes. Season with salt & pepper, as desired. Top off with cheddar cheese for extra cheesy goodness.