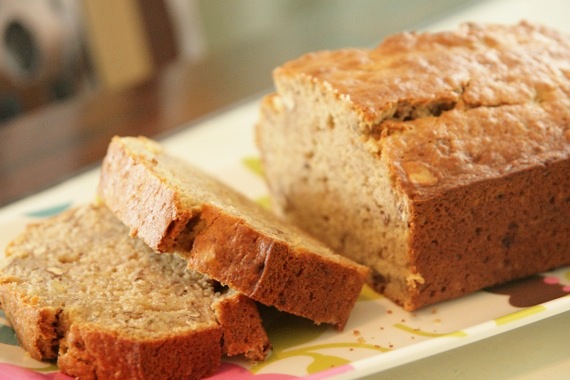 Boy, just try to say that title 5 times fast! Maybe we ought to just call it 'B4' instead…..ok, maybe not. Sorry, don't know where that came from, exactly.  Anyway, a mere 3.2 seconds after I saw this on Julia's blog, Fat Girl Trapped in a Skinny Body, I immediately printed it out and set out to make it. Frankly, I get tired of the same old banana bread recipes; I needed something new. And browned butter?? Um, yes, please! I love the stuff so much I could pour it over my cereal in the morning! It's that good. You can't imagine the beautiful, glorious aromas wafting through the house while this is baking- it's enough to drive a girl crazy! I can't wait to find other great recipes that use browned butter…especially since I don't think people will take too kindly to browned butter over Cheerios. Don't think the public is quite ready for that one yet….
Browned Butter Banana Bread
–Fat Girl Trapped In A Skinny Body
1 stick butter
2 cups flour
3/4 cup brown sugar
1 tsp baking powder
1/4 tsp baking soda
1/2 tsp salt
4 bananas
1/2 cup chopped pecans
2 eggs
1 tsp vanilla extract
Preheat the oven to 350 degrees and grease an 8 inch loaf pan.
In a medium saucepan over high melt the butter. Once it is melted lower the heat to medium and swirl the butter around the pan instead of stirring it. It will take about 5 minutes for it to brown. Occasionally swirl it. You will notice when it turns brown because it literally, turns brown. Remove the pan from the heat and allow to cool while getting everything else ready.
In a large bowl sift the flour, sugar, baking powder, baking soda and salt.
In another bowl whisk the eggs then add the mashed bananas, vanilla and the semi-cooled butter.
Add the liquid to the dry mixture. Mix just until incorporated, don't over mix. Pour the batter into the greased loaf pan.
Bake at 350 degrees for 60-70 minutes, until it is browned on top and a fork inserted comes out clean. Cool for at least 15 minutes in the pan before cutting and serving.