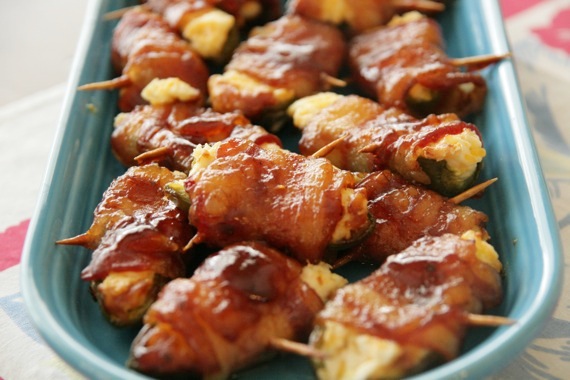 My mom made these for our 4th of July party. They're insanely good. So good I was lying in bed around midnight that night wishing I had another one. I'm not sure what else to say here- those are the cold hard facts. Make these. Make them soon.
BBQ Bacon-Wrapped Jalapenos
20 fresh jalapenos, cut in half and seeded
2 blocks of cream cheese, at room temperature
1 cup shredded cheddar cheese
1 pound bacon, cut into thirds
BBQ sauce
toothpicks
Preheat the oven to 375 degrees. In a large bowl, mix the cream cheese and cheddar cheese. Spread some of the cheese mixture in each jalapeno half. Wrap each piece with a slice of bacon and secure with a toothpick. Brush with BBQ sauce, and place on a baking sheet lined with foil.  Bake for 20-30 minutes, or until bacon is nicely browned.