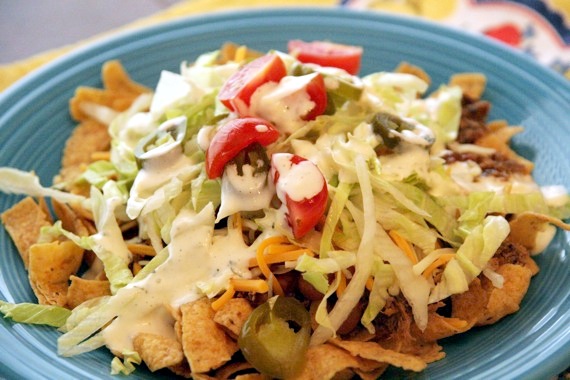 Doesn't that title just draw you right in?

Ok, ok – it might not sound too appealing to you, but you'll just have to trust me on this one, ok? Should you ever find yourself with leftover BBQ – you're going to want to try this…..trust me.
In my home town, there's a restaurant that serves something called "Texas Trash"; it's essentially a taco salad of sorts, but with BBQ instead (and lots of other yummy things!). It's so good, most of the time I don't even wait until I have leftover BBQ to use up – I'll just run by a good BBQ joint and pick up some brisket, beans and sauce just for the sole purpose of making Texas Trash! Start with a bed of Fritos, top it off with some chopped brisket, a little BBQ sauce, pinto beans, cheddar cheese, sour cream, black olives (yes, black olives!), jalapeno peppers (lots of 'em), lettuce, cherry tomatoes and a drizzle of ranch dressing and you've got yourself one tasty pile of food! I swear, my mouth is watering just thinking about it! This is seriously one of my favorite things to eat! Tired of the same old chef salads and taco salads, but still don't want to cook?? Make this! I *promise* it's delicious!!
Texas Trash
(there are no measurements because you just pile it on your plate according to how much you feel like eating!)

Fritos
Chopped BBQ brisket (if you're using leftover, make sure to heat it first)
pinto beans
BBQ sauce
shredded cheddar cheese
sour cream
black olives
pickled jalapenos
ranch dressing
cherry tomatoes, sliced in half
lettuce, chopped
Place the Fritos on a plate and top with remaining ingredients (however much you want!). Enjoy! (Wasn't that simple?!)