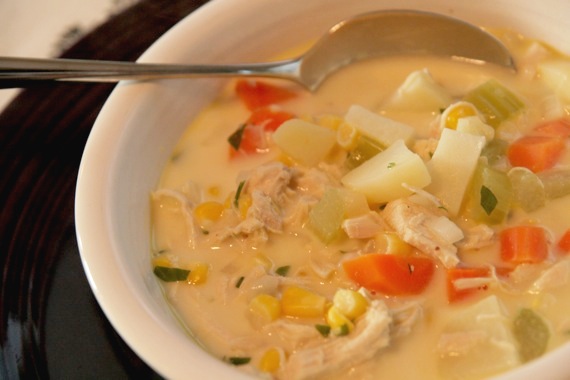 The weather has been cold and wet the past few days which only means one thing in our house- soup. After forgetting my umbrella yesterday and thus getting soaked on the way to the car, I came home and immediately set out to make a big pot of soup. Nothing makes me feel cozier or more comfortable. Ahhhh. This is just a plain 'ol, good-for-the-soul chicken soup…with a splash of cream to give it a little richness. Nothing fancy or difficult- just warm and full of comfort. Perfect for cold rainy days! And it tastes even better if you snuggle up to your hubby on the couch while you eat! Now THAT makes for good soup! 🙂
Creamy Chicken and Vegetable Soup
2 chicken breasts, cooked and shredded
4-6 medium-sized carrots, chopped
1 onion, chopped
1 clove garlic, chopped
2 celery stalks, chopped
2 medium-sized potatoes, cut into cubes
1 cup frozen or canned corn
6 cups chicken broth
salt and pepper to taste
1 bay leaf
1/2 cup heavy cream or half and half
handful chopped parsley
**Feel free to add in any other vegetables you like- frozen peas, green beans, zucchini…whatever!

Place carrots, celery, onion, garlic, chicken broth, bay leaf, salt and pepper in a large stockpot over medium heat. Bring to a boil and cook for 15-20 minutes, until the vegetables are tender. Stir in the chicken, potatoes and corn. Simmer for another 20-30 minutes. Check for seasoning then add in the heavy cream and chopped parsley.