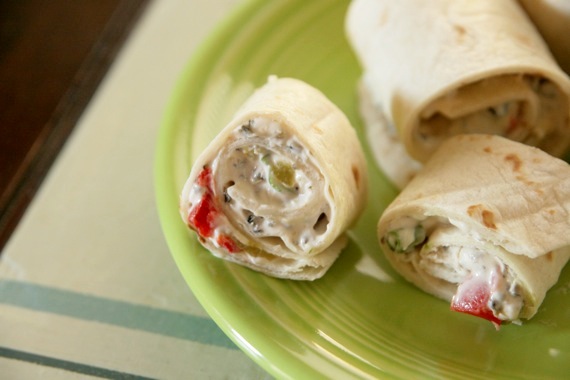 I love just about anything with a cream cheese base. Cheese balls, dips, cheesecakes, spreads…I love it all. That's why I went nuts for these little tortilla roll-ups that my friend Callie introduced me to (sorry the photos are so crummy- I had only a few seconds to snap a couple of pictures before my party!). She brought them to my house for a party and I pretty much ate half the platter by myself. Then I turned right around and made some myself to take to another party! I LOVE them! And the party guests loved them too- they got gobbled up in no time! The ranch seasoning really adds great zestiness and the green chiles give it a nice zing! These are SO good! Perfect for parties!
Zesty Tortilla Roll-Ups
-adapted from my friend Callie's recipe
2 8-ounce packages cream cheese, softened
1 package (1 oz.) Hidden Valley Ranch salad dressing mix
2 green onions, chopped
1  4-ounce jar diced pimiento, drained
1  4-ounce can diced green chiles, drained
1  4-ounce can chopped black olives, drained
1 squirt lime juice
1 package large flour tortillas
Mix all ingredients together and spread in an even layer on tortillas. Roll them up and chill for at least 2 hours. Slice just before serving.
*These are best enjoyed the day they're made. The tortillas will get a little soggy after a few hours, so if you need to make them ahead of time, just make the filling and keep in the refrigerator until needed, then assemble the day of.
**This would also be great by itself as a dip- just serve with Fritos or tortilla chips! Yum!!