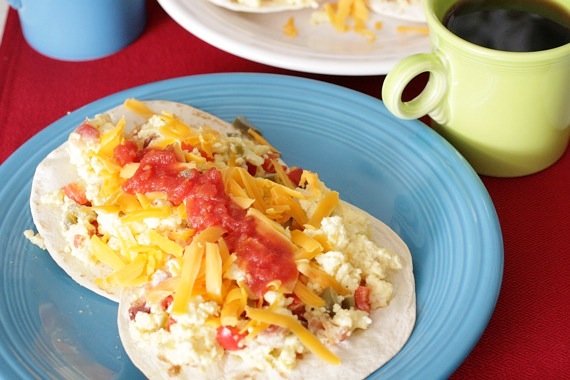 I'm one of those people that loves breakfast-for-dinner. For me, it's like a special treat getting eggs or pancakes or biscuits and gravy at dinner. I used to love it when my mom would make breakfast for dinner – she'd fix a huge cast iron skillet full of scrambled eggs, a big plate of biscuits, sausage gravy, jelly and coffee. My dad is the pancake maker- as long as I can remember, he's always been the one in charge of pancakes, which we'd also have for dinner a lot. YUM! I seriously LOVE breakfast-for-dinner! What a concept! So, naturally, I like to make it myself as often as possible. The other night, neither of us could decide what we wanted for dinner, so I rummaged around in the fridge and came up with this knock-out recipe. It's one of those lovely "throw it all in" recipes that I just adore so much. You can put in whatever you like! Onions, potatoes, mushrooms, tomatoes…the possibilities for dish like this are endless! A perfect breakfast or breakfast-for-dinner meal!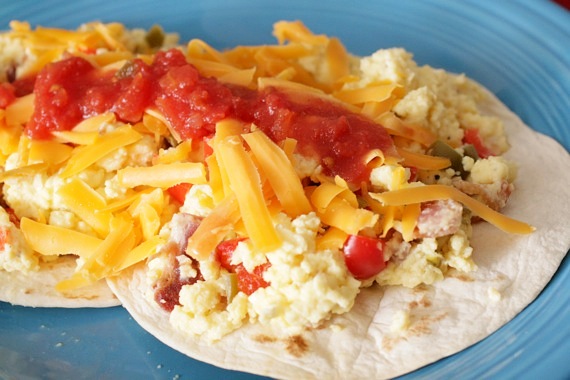 Breakfast Tostadas
4 flour tortillas
1 tablespoon butter
6 eggs
1/4 pound bacon, cooked and crumbled into pieces
1/2 red bell pepper, chopped
4-5 slices jarred jalapenos, chopped
1/2 cup shredded cheddar cheese
salsa, for serving
salt and pepper, to taste
Preheat oven to 400 degrees. Place tortillas on a baking sheet in a single layer and bake for 5-7 minutes, until slightly crisp. Set aside.
In a large skillet, melt the butter over medium heat. Place the eggs in a large bowl and whisk until homogeneous. Stir in the cooked bacon, peppers and salt and pepper. Pour into hot skillet and stir continuously until eggs are completely cooked and scrambled (about 5 minutes).
Lay two tortillas on each plate. Top with the scrambled egg mixture, shredded cheese and salsa. Serves 2.
Recipe source: Sing For Your Supper original