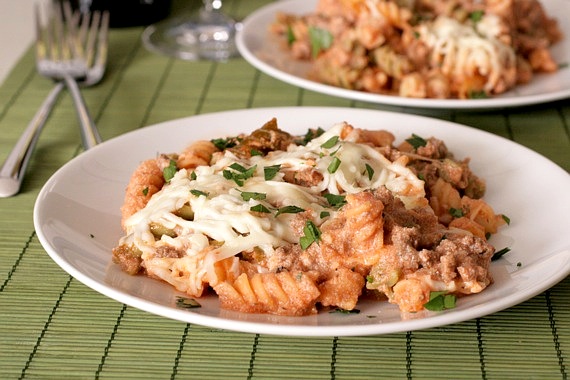 Everybody loves lasagna but they don't always have the time to put one together. Let's be frank- it's a slight pain in the butt. Not hard. Just a little time-consuming. I ran across this problem last week while trying to think up a quick dinner; lasagna sounded SO delicious, but I just didn't have the time to whip one up. That's where this pasta comes in. It's totally quick and easy (we're talking under 30 minutes to make!) and has all the delicious components of lasagna…without any of the trouble! The most time-consuming part is browning the beef and boiling the pasta – easy peasy! This is another extremely weeknight-friendly dish, and I think we could all use a few more of those! Try this next time you've got a craving for lasagna but don't have the time! It won't disappoint!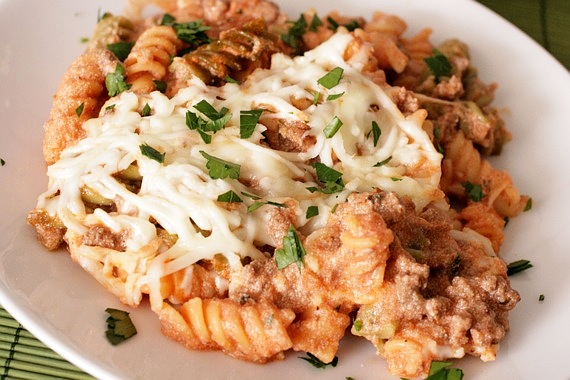 Rotini Lasagna
1 pound lean ground beef
1 pound (16 ounces) rotini pasta (any short pasta you have will work)
1 28-ounce jar spaghetti sauce (of course homemade is great too)
1/2 cup water
1/2 teaspoon salt
1 15-ounce container ricotta cheese
1/4 cup chopped fresh parsley
1/2 cup shredded mozzarella cheese
Preheat oven to 350 degrees. Brown and drain beef in a large skillet. Stir in spaghetti sauce, water, salt, ricotta cheese and parsley.
Cook the pasta according to package directions and drain. Stir into beef mixture. Pour into a greased 9×13 baking dish and top with the mozzarella cheese. Bake for 15 minutes. Top with additional parsley, if desired and serve.
Recipe source: inspired by a recipe seen on The Pioneer Woman via Tasty Kitchen