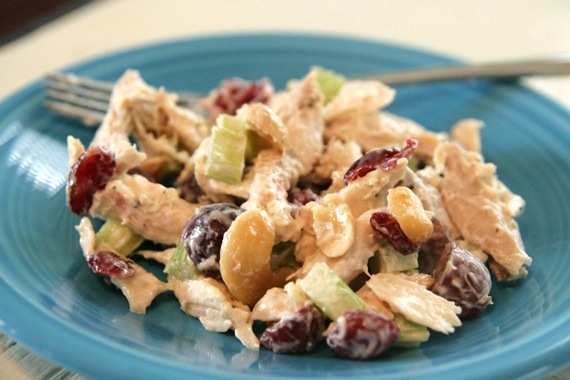 You may not know this but chicken salad is one of my favorite things to eat. I love it! But surprisingly, I've only posted one recipe for it on my blog and it wasn't even my own personal recipe. Well it's been long enough!
There are SO many different ways of making a good chicken salad – my mom sometimes puts pineapple and almonds in hers and my grandmother puts a little whipped cream in hers. They're all different and they're all so good. Mine is a bit different from theirs, but not too much. I love it because it's really crunchy, sweet and salty at the same time. Mmmm, just talking about it makes me hungry for more….. This is a perfect meal- it's light, refreshing and keeps really well in the fridge for lunch the next day. You really need to try this one; I promise you'll love it as much as we do!
My Chicken Salad
1 small rotisserie chicken, deboned and shredded
2 celery stalks, chopped
handful red grapes, sliced in half (we like lots)
1/2 cup lightly salted cashews
1/3 cup dried cranberries
1/4-1/3 cup mayonnaise (start with 1/4 cup and see if you need more)
1/2 teaspoon sugar
1 teaspoon salt
1/2 teaspoon freshly ground pepper
pinch cayenne pepper
Mix all ingredients in a medium bowl and taste for seasoning; chill until ready to serve.